Wear How You #FeelInColor
Wear how you #feelincolor
Everyone's brain is different. And everyone deserves a safe space to talk about it without fear of shame or discrimination. That's why we've created this 7-day, mood-inspired, apparel-making project. Anyone can participate.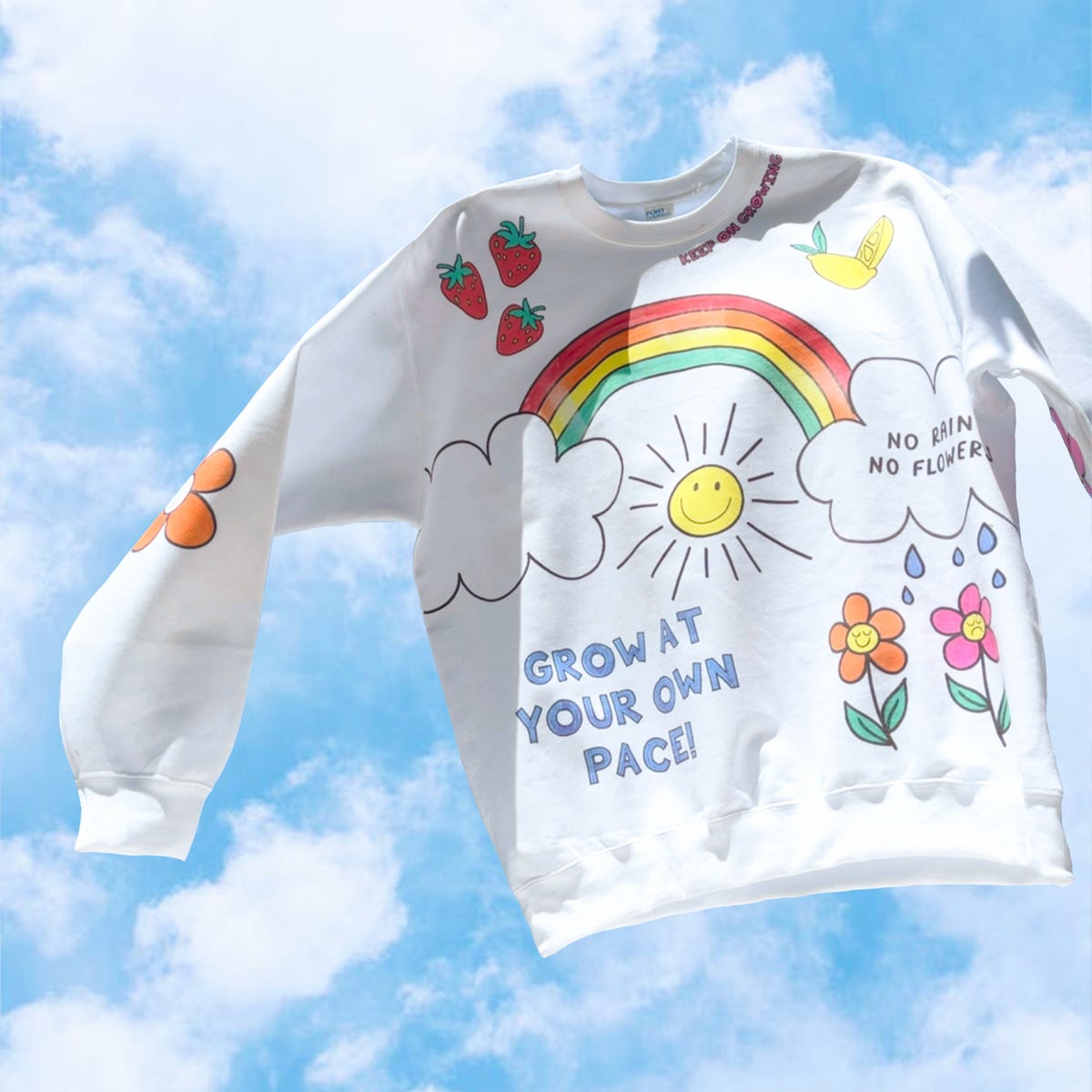 Apparel that helps start stigma-free conversations about mental health? Yep. That's what we're going to show you how to do in this tutorial. We're calling it "mood-inspired apparel". Plus, you'll learn how to sublimate without a heat press or fancy cutting machine!

Day 1 : Weather - What type of weather best represents your current mood?…cloudy, rainy, foggy, humid, hot, cold, snowy…?

Day 2: Fruit - Draw what fruit best describes something you've learned about yourself. For example, I drew a banana because I've learned that I'm more sensitive than I had thought. And like a banana, I may look like I have thick skin, but the truth is, I bruise very easily.

Day 3: Critter - Doodle a critter that you vibe with. Your pet iguana? A soaring eagle? Your roommate's cat? Maybe a nostalgic elephant or brave lion?

Day 4: Plants - If your mental health journey was a plant, what kind of plant would you be? How have you grown?

Day 5: Shape - Let's get abstract and draw the shapes that represent how you are feeling today. Pointy? Round? Simple? Complex? A Mixture? Many shapes overlapping?

Day 6: Quotes - What motivational quote or word has been there to help you during hard times? (Make sure any text is mirrored before you transfer it to a garment!)

Day 7: Doodle - Doodle your feelings today in whatever way you want.

Products We Used
Supplies
Heat press (or regular iron)

Parchment paper

Clear acrylic ruler

Lint roller

Pressing mat (or ironing board)

Daily prompts (optional)

Printer paper

Pencil (optional)

Scissors
---
Even though we used Siser's sublimation markers to doodle and sublimate our feelings in this tutorial, feel free transfer your mood-doodles to your blank using any decoration technique.

Sophie, owner of @seethewayisee, enjoys the therapeutic process of hand embroidery for some of her designs. As for the prompts, don't worry –we've compiled seven "doodle-your-mood" prompts to inspire and encourage you to express how you #feelincolors.
The Prepping - Doodle Your Emotions
Somewhere you feel comfortable and safe doodling about your mental health journey.
Gather your doodling supplies.
You'll need at least 7 sheets of regular paper (one for each day of doodling), a pack of Siser's sublimation markers, and the daily prompts (if you need a little doodling inspiration).


You can find the seven "doodle-your-mood" prompts at the top of this page.
A doodle a day can keep the stress away! Use your preferred color Siser sublimation marker to draw or doodle your responses on regular paper. For example, sometimes I feel like a banana because I'm sensitive and bruise easily.

Want to use text in your design? Make sure to mirror your text so it reads properly once transferred to the blank. Here some ways to mirror text when using Siser's sublimation markers:


Use your desktop printer to print the text onto paper. Flip over the printed paper and trace the text with sublimation marker, then continue to draw the rest of your design.



Free hand your text and then flip over the paper to trace the text with sublimation marker. Continue to draw the rest of your design.
Use a pencil to draft your design first.
When you're ready to make it official, use the sublimation markers to color in your design.

One general rule of thumb for this technique is to remember your design needs to be mirrored. We found this was only really necessary when coloring designs with words.
The Making - Sublimate Your Mood-Doodles Onto Apparel
Step 1 : Wash and dry your blank
This removes any manufacturer's finishing or excess fibers.
Step 2: Prepare your heat press
Set the temperature on your heat press to 400° Fahrenheit and set a timer for 60 seconds.

If you're using an iron, turn it to the hottest setting with the steam turned off.
Step 3: Map out the placement
Lay your blank flat on your workstation and use an acrylic clear ruler to map out your design placement.

Lint roll the chosen application site to ensure all loose fibers are removed to prevent any voids in your design once transferred.
Step 4: Cut out your doodle
Using a pair of scissors, cut out your doodle while leaving ½" – 1" border.
Place your doodle on the blank with its colored side faced down so the ink touches the face of the fabric.

Use Siser's heat-resistant tape to secure the paper doodle in place.
Step 5: Prepare to apply heat
Place a clean parchment paper on top of your paper cut out.

Apply heat to the design for 60 seconds. If you're using an iron, try to keep the heating consistent across the design for a full 60 seconds.
Step 6: Remove the heat from the blank after 60 seconds
Remove the parchment paper and slowly peel a corner of the paper cut out to double check that your design fully transferred. If it did not, lay the peeled corner back down, grab a new clean parchment parchment paper and re-apply heat for 60 seconds.
Repeat the process outlined in previous steps to cover your entire garment in doodles. You can transfer each design right away, one at a time, or you can wait until you've completed all the prompts and place them, it's up to you!
Now you have a piece of apparel with doodles that represent how you feel and your mental health journey. We hope this project helped you on your journey in some way. After all, we are all different and have our own, unique stories to tell. We're just hoping you've found this as a new way to tell your story and express how you #feelincolor.

Share your finished project with us to be featured on our Instagram @presshallmade. For brownie points, use #feelincolor.