How To Start a Clothing Brand
Learn how to start a clothing brand in 5 steps. Start planning your first product launch with our "How To Start A Clothing Brand" checklist.
Have you ever wanted to start your own clothing brand? We've teamed up with two fabulous and successful apparel brand owners to hear how they started their apparel brands and to share their knowledge with you.

Allie Mitrovich, owner of Allie Rose Co., started her brand after graduating college in May 2020 amidst the height of the Covid-19 pandemic. From her parent's garage, she turned her quarantine hobby into a successful small business! Dreams really do come true.

Megan Duncan, owner of Meg Ann Co., is living proof that women run the world. She runs her brand while also working and studying as a nursing student. Plus, she loves sharing tips and advice on how to start a clothing brand with aspiring brand owners.

We worked closely with Allie & Megan to develop a "How To Start A Clothing Brand" checklist to help get you started.

Eager to start planning the product selection for your first launch? Check out our awesome blank apparel and accessories. And no, we don't require a business license to get wholesale prices. $3 t-shirts for everyone!!!

Oh and if you want to learn how to decorate blank apparel to sell at your shop… we're here for that too! We've got free tutorials for every type of decorating, so you can learn what's right for you.
Our "How To Start An Apparel Brand" Checklist

Step 1: Develop your brand and decide what products you want to sell.
Decide your aesthetic and products you're interested in selling. This will make your brand stand out and help you to get started researching and designing. Stay consistent and stick to your aesthetic at all times so that your brand is consistent. If you're brand-new to apparel decoration, watch videos, read tutorials, and invest in the equipment that works for your lifestyle.

Step 2: Set up your brand's social media accounts.
Stay motivated and consistent! Making sales can be tough, but you can do it! Post consistently and learn what your audience wants to see. Make a product and capture your making process or the final result. As the TikTok gods have made clear, "everything is content, everything is content".

Growing social media is difficult in general but people love to see the process. Don't just post photos of your product. Post videos and pictures of behind the scenes! This will get individuals to interact with your content and increase followers.

Step 3: Buy decoration-ready blanks at Press Hall and order other decoration materials for your first product launch.
Invest in the staple pieces you need –All of the extra fun supplies can be purchased later when your business is off the ground.

Research, research, research! The quality of your supplies will either make or break your customer's experience. The cheapest t-shirt (like the PC54) is great to start with, but you may want to consider a softer Gildan Softstyle t-shirt for $1 more. If you want to sell higher-priced items, we suggest a well-known brand like Comfort Colors or Champion.

Many suppliers will require you to have a business license to get low, wholesale prices and often will make you buy in bulk. This is one of the many reasons Press Hall exists. You don't need a business license and you have 60-days to return your unwanted items.

Plus, if you need advice on literally anything about decorating apparel or finding the right blank, our in-house team of makers are available to help! Call us at (855) 919-2467 during our business hours.

Step 4: Set up a shop for your customers to browse your products.
Decide which website platform you will use. We recommend Shopify, but you'll need to start the site and do a little learning! Etsy is also a good alternative if you don't feel comfortable jumping into making your own site right away. Plus, they help with marketing your products to Etsy shoppers.

Step 5: Build a budget and stick to it.
Make a budget spreadsheet and stick to it as much as possible! It's so easy to get carried away out of excitement, but this part is super important to ensure longevity of your business.

Invest in your supplies and products that work for your budget. In the end, it is your money and you can invest however little or much you want.

Finally, keep being a rockstar! You've got this!






Advice From Successful Apparel Brand Owners, Megan & Allie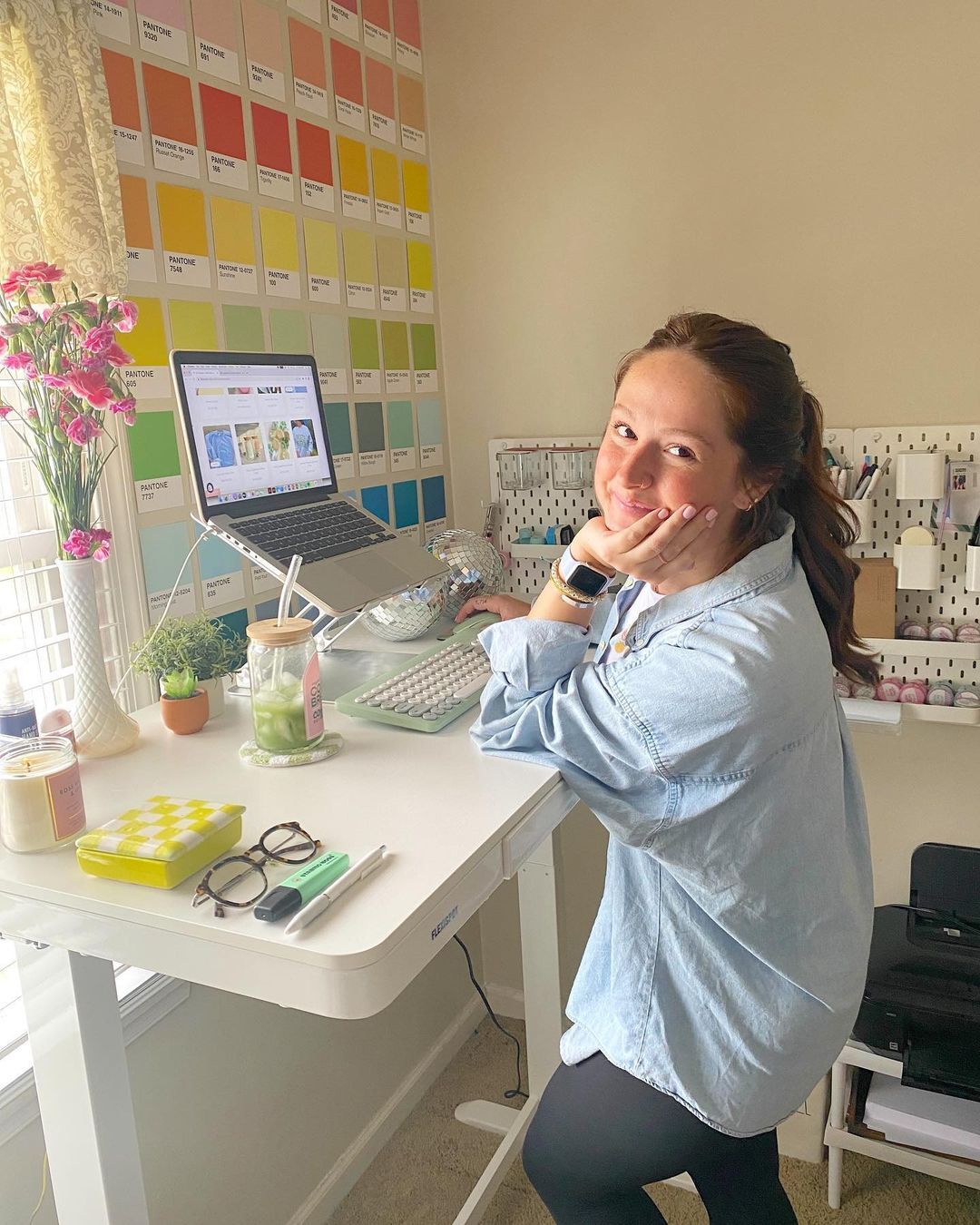 What resources would you suggest for those planning to start a clothing brand?

Megan: When I first started out, TikTok and YouTube were two of my main resources I used to gather information. One resource that I continuously rely on is the Gildan 18000 crewneck. I still use that sweatshirt to this day, and it was the first blank I ever purchased! Even though I don't commonly work with HTV any more, Siser Easyweed will forever be my go-to for vinyl!

Allie: There are so many generous small business owners out there that share tips and tricks on social media - that's where I learned the basics when I started! Many small business owners that share their tips and tricks via Etsy documents that you can buy. They're like crash course PDFs that can be INSANELY helpful! I went to YouTube to learn about heat pressing and Cricuts.

If someone plans to start a clothing brand part-time, and then scale it up later (upon it's success), what decoration technique and machines would you suggest someone invest in? Can you give us an estimate on how much their first launch would cost?
Megan: Starting out, I invested in a Cricut Explore Air ($250), a Cricut subscription ($10) HTV Siser Easyweed ($9.99), a few blanks (Gildan 18000) (about $15-$20) and poly mailers ($13). This cost me around $330.

Allie: If you're starting out part-time, I would recommend starting with low-grade equipment, so you can upgrade supplies as your business grows. I would start with a heat press (these can be as low as $200 on Amazon, then upgrade to a nicer one later), a Cricut Easy Press (these are about $100-$200), and a Cricut Explore ($170ish). Vinyl is relatively cheap and can be purchased for around $10 depending on how much you'll need. Another way to decorate is to use screen print transfers from sites like SupaColor or Transfer Express. These make your life easier and cut out the cost of the Cricut itself, but you do need a minimum for these purchases and they can get costly if you don't need a ton of transfers.

How many blanks does one need for their first product launch?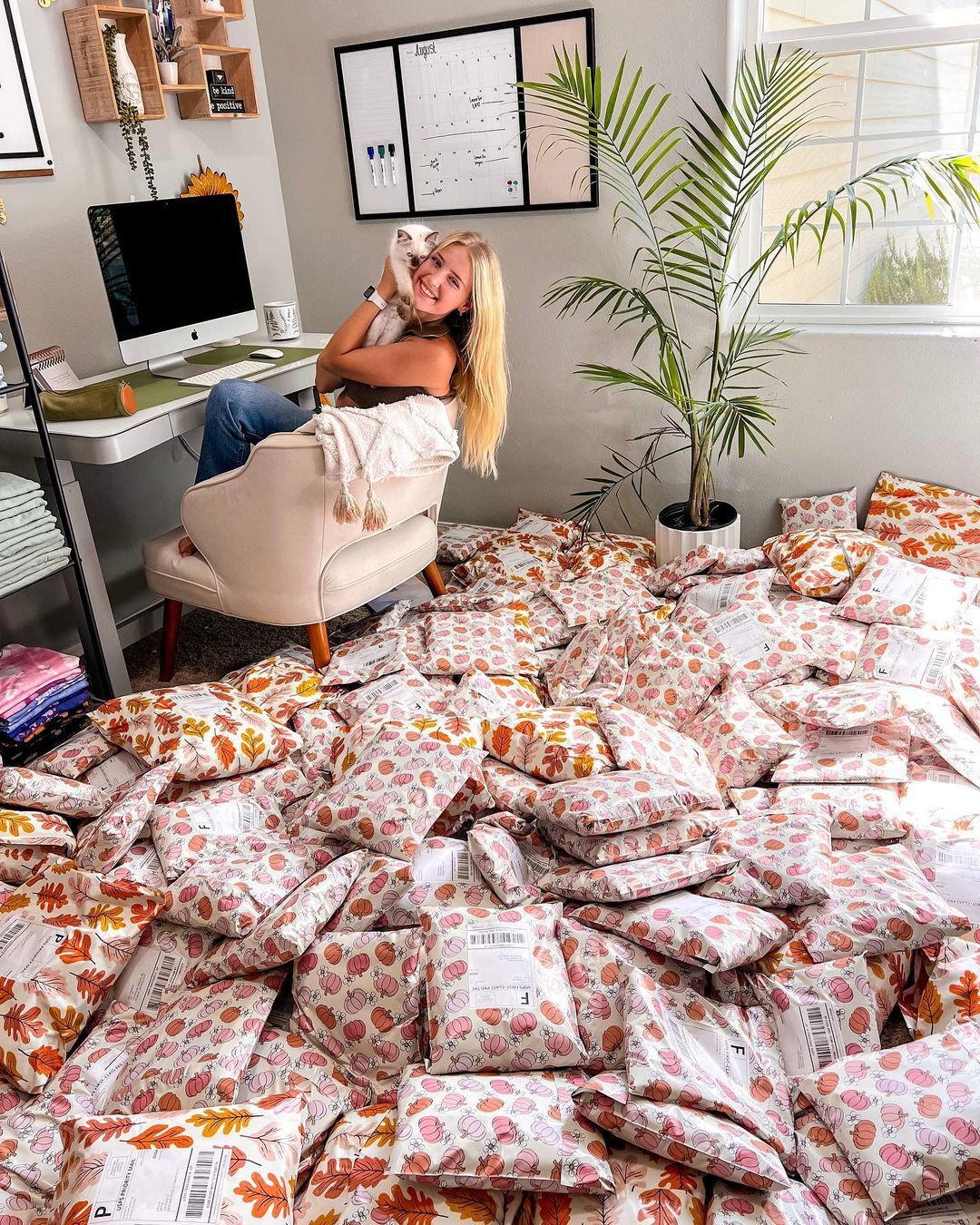 Megan: Personally, when I first started I did "made-to-order", so I bought one shirt and took pictures of it. I set my processing time at 2 weeks and when an order would come in I would buy my blanks. Once I started realizing I was selling more shirts, I went up to buying 3 shirts in sizes S-XL, finally, I expanded more and for my current launches I usually do 20 shirts in each size S-5XL.

Allie: When I first started, I didn't have it in my budget to stock up on a ton of blanks and HTV beforehand. I only purchased the necessary products I needed like a heat press, a cricut, etc., so I actually ordered blanks as I got orders. This really only works if you're making products yourself. At the end of each day, I would look at what shirts were ordered and place an order for the blanks. Once they came in, I would make the shirt with my HTV and ship them out ASAP! Plus a few extra blanks to use for marketing content.

How should newcomers plan or "map out" their first product launch?
Megan: Anticipate how many people will buy your product (you can do this by word of mouth or polls on social media). Calculate all your expenses and add them up. Create a price for your product and don't forget to pay yourself! Time is money. Have a build up to your launch –This might look like adding countdowns on your social media and getting people excited for what's to come. List your product and launch it!


Allie: Figure out your prices and shipping costs, make sure your website is all mapped out and inventory is double and triple checked, take good quality product photos (customers don't love mockups!), and market like you've never marketed before! There is no such thing as talking about your launch too much. Utilize every social media platform and make sure every person that follows you knows you're having a launch. And give yourself grace! Not every launch will be a sell out, go in with that mindset and be grateful for every purchase!

At what point in starting your apparel brand, did you have to seriously start doing it full-time?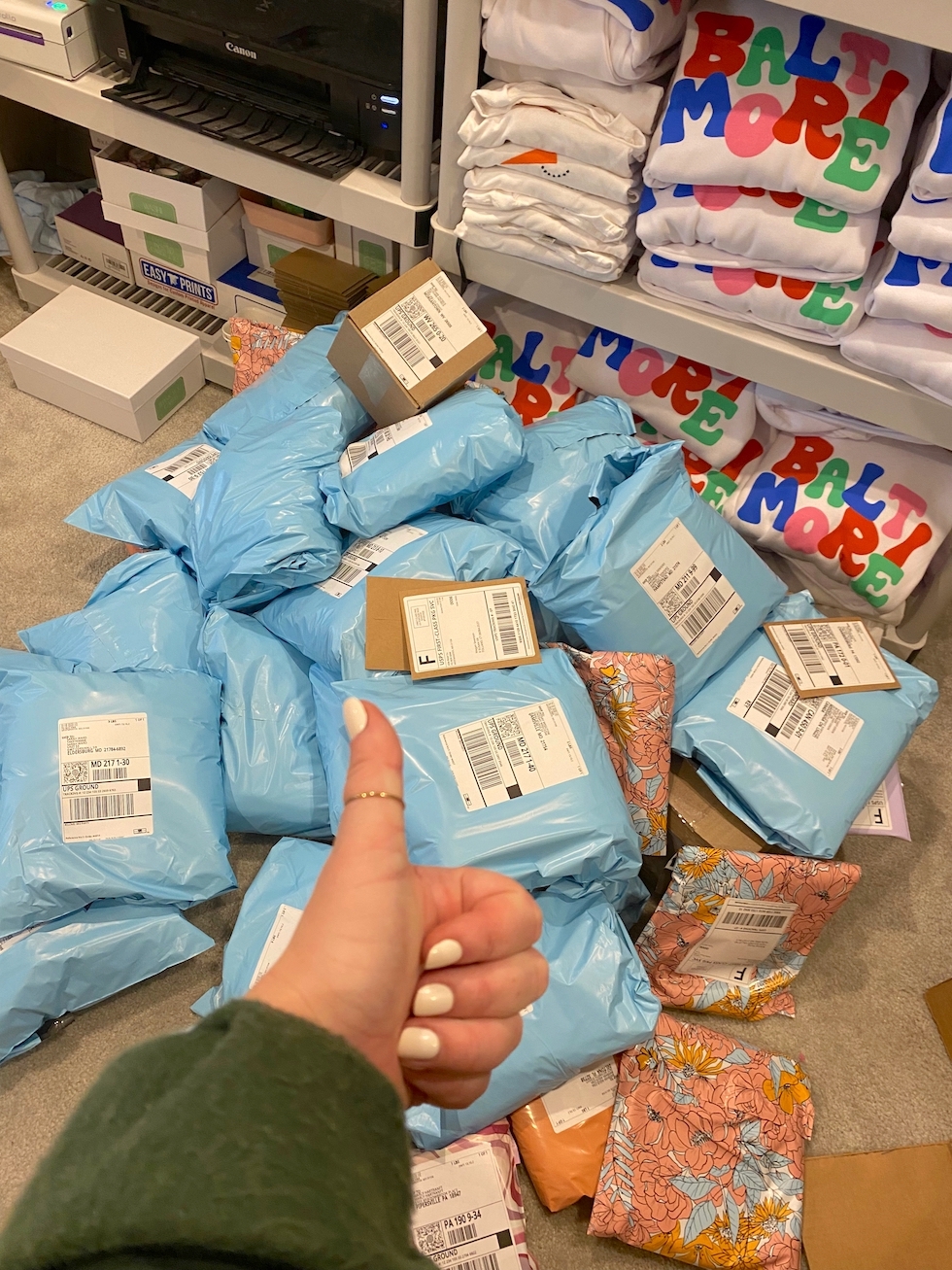 Megan: I started my business in November of 2020 and on July 31st 2021, I quit my day job. I could have gone full time long before I quit my day job, but I enjoyed it and didn't want to leave my employer high and dry. Now I manage being a full time nursing student on top of being a small business owner.

Allie: I started my business during an unusual time, so I don't have the best answer here. I graduated college in the peak of the pandemic (May 2020), and was sent home from my last semester early. After graduating, no one was really hiring, so I decided to take my quarantine hobby full time. It wasn't really that my business got too busy or crazy and it made me need to take it full time, I just started it out full time! I was living with my parents and didn't have to pay rent or bills so it worked for me. If circumstances were different, I would probably have started it in addition to a full time job and transitioned when the business got super busy.

How much time should someone prepare to put in when considering starting a clothing brand?
Megan: They should put in at least a few weeks to research all of the supplies they need, purchase those supplies, create their first shirt and get a feel for the job. A lot of people see successful apparel brand owners on social media and think "that looks easy!", and they invest all this money only to find out they hate the process of making a t-shirt which leads to frustration and giving up. You have to like what you do!

Allie: I would say around a month! Some might need more time, some might need less, but this is a good timeline to start with. It takes time to design and get all of your products in the mail, especially if you are planning to customize clothing as orders come in. Give yourself a few extra days before your launch to guarantee that everything is in place and double and triple check inventory, your website, etc. It's easy to get too excited and launch immediately but it's more important to make sure your ducks are in a row.

We hope this advice on how to start a clothing brand was helpful! When you're ready to buy more blank apparel and HTV, come to Press Hall. We don't require a business license to get wholesale blank apparel and accessories. Just don't forget us when you make it big.