Heritage Hoodies
Heritage Hoodies
Beverly Garcia was inspired by the rich imagery, colors and patterns that surrounded her during her childhood and created these Heritage Hoodies using layered heat transfer vinyl. Follow Beverly's step-by-step instructions and turn memories into your own inspired apparel.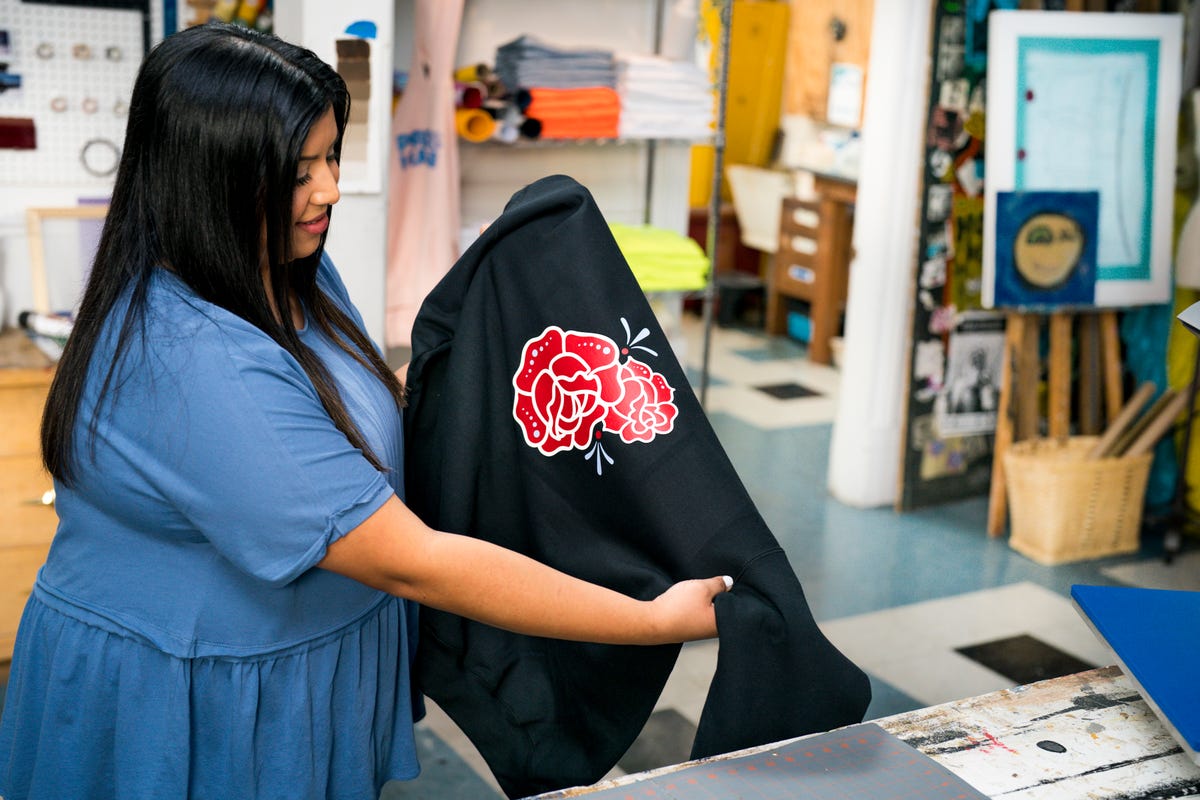 Our childhood serves up so many memories which can be used to inspire creativity today. Especially when these memories come in the form of clothing.

Think about it.

Really. Think about it.

Did you have a favorite sweater? What was on it? What color was it? How did it feel? How did it make you feel?

Loud, expressive music. Floral prints. Big, bold colors. Laughter. Joy. Delight. Pride. These are the emotions and memories that Beverly ties into many of her creations.

If you're trying to come up with inspirational, decorative or funny vinyl apparel ideas or if your HTV ideas have run dry, just take a moment to remember your childhood. Your culture and your upbringing. You'll find that you can be your own inspiration. Give this project a try and use your own culture, memories, and personality. If you can relate to Beverly's culture and want to use her design, you can download her design. Or let your culture and memories inspire your own design using the same decoration techniques.
Products We Used
Blank
As always, we encourage you to use the same products we've already tested and approved, but if you'd like to go your own way, we salute you! Just make sure the blank you are using is a similar fabric.

Additional blanks we recommend you use for this project are also listed at the bottom of the tutorial.
Supplies
Siser EasyWeed HTV (heat transfer vinyl) in red

Siser EasyWeed HTV (heat transfer vinyl) in periwinkle

Siser Brick HTV (heat transfer vinyl) in white**

Vinyl cutting machine (we used Cricut)

Vinyl scraper

Heat press (we used a clam shell press)

Heat resistant tape

Pressing mat (if using a hand-held heat press)

Clear, acrylic ruler

Standard grip cutting mat

Brayer tool (or roller)

Scissors

Weeding tool

Lint roller

Teflon sheet (or parchment paper)
---
**Brick HTV is currently pending retail release, however, the great thing about Siser's HTV is that you can use any of their amazing heat transfer vinyl to execute this layering technique.
Step 1: Wash and dry your blank
This removes any manufacturer's finishing or excess fibers. These need to be removed prior to decorating to allow the HTV (heat transfer vinyl) to properly bond to your blank.
Step 2: Load your design of choice into your vinyl cutting machine's design software
Download Beverly's design or use your own design, and load it into your vinyl cutting machine's design software.
Step 3: Prepare your vinyl cutting machine
We prepared our design in the Cricut design space where you can alter the size of the design to fit your chosen blank. Not using a Cricut? Refer to your specific cutting machine's instruction guide on how to cut vinyl.

Hit the "Make It" button located in the top right corner of your project page in the Cricut Design Space. Each of the design's layers will be displayed virtually in the Cricut Design Space by color along with the cutting mat. Edit the mat size, design placement, and mirror your design if needed.
Step 4: Prepare your heat press
Turn on your heat press and adjust the heat to 310 degrees Fahrenheit. We used a clamshell press and adjusted our pressure to medium pressure because we're pressing a fleece style blank.

For the most accurate results, refer to the heat and pressure settings on your HTV manufacturer's website or product packaging.
Step 1: Place the HTV on your cutting mat
Place the bottom-most layer of the vinyl design with the shiny side faced down on the cutting mat.

Use your brayer tool or vinyl scraper to ensure the vinyl is evenly applied to the mat and there are no air bubbles.
Before you start cutting, make sure to double check the HTV (heat transfer vinyl) manufacturer's website for the proper pressure setting for your vinyl cutter.

Insert the cutting mat into the Cricut by using the rollers as a guide. Once the mat hits the rollers, push the flashing arrow button. The machine will pull in the mat. When it's ready to cut, the Cricut button will begin to flash.

Press the flashing Cricut button.

Once finished cutting, the Cricut will stop and the arrow button will flash. Push the flashing arrow button to release the cutting mat from the machine.

Remove the vinyl from the mat by holding the cutting mat down with one hand and use your other hand to pull the vinyl off the cutting mat away from you.
Step 3: Repeat Steps 1-2 to cut all remaining elements in your design
Step 4: Start weeding your design
Pierce the corner of the non-shiny side of the vinyl. Then use the weeding tool to remove any excess vinyl from the design.
Use a pair scissors to separate the design as needed.
Step 5: Prepare your blank
Lay your blank flat on a table and use a ruler to make sure all the pieces fit together and that they match up with the final design.

Set the vinyls off to the side and use a lint roller to get rid of any unseen fibers that could be within the design placement area.

Before pressing the vinyl, make sure your design placement area is as flat and dry as possible by giving the blank a 2-3 second pre-press.
Starting with the bottom-most layer, apply each color of vinyl over top of each other until all elements of the design are placed. For this project, we placed the previously-cut vinyl elements in the following order:
Red EasyWeed HTV (bottom-most color)


Periwinkle EasyWeed HTV (middle color)


White Brick HTV (top-most color)

Because the Brick HTV's backing isn't sticky, use heat-resistant tape to keep the design in place while pressing.
Step 7: Time to start pressing!
When layering HTV, you don't want to overheat the initial layers. To prevent overheating, you should press your layers in their place for just a few seconds.
Place the Red EasyWeed HTV


Cover it with a clean Teflon sheet or parchment paper



Press for 8 seconds to tack it down



Remove Teflon sheet or parchment paper immediately –this is a hot peel HTV.
Place the Periwinkle EasyWeed HTV


Cover it with a clean Teflon sheet or parchment paper



Press for 8 seconds to tack it down



Remove Teflon sheet or parchment paper immediately –this is a hot peel HTV.


In total, the entire design should be exposed to about 25 seconds of heat. All types of HTV require unique peeling instructions. Refer to the HTV manufacturer's guide for this info. If you are using Siser brand HTV, this is their guide to
Remove the blank from the heat press, let cool, lint roll, and reveal the design.

Boom! You've got a beautiful new shirt with a unique design that you applied yourself! It's an original. A 1 of 1. When you wear it, remember the heritage that inspired it. And give yourself props. You made it happen. Her memory, your magic.