Heart On A Sleeve
Heart On A Sleeve
Megan, a nursing student, wanted to honor her future colleagues. In this project, she shows how to reverse tie-dye a long-sleeve shirt and then finishes it off with a motivational message on the sleeve. Perfect to be worn under scrubs; but also great for healthcare pros to wear it anywhere they go.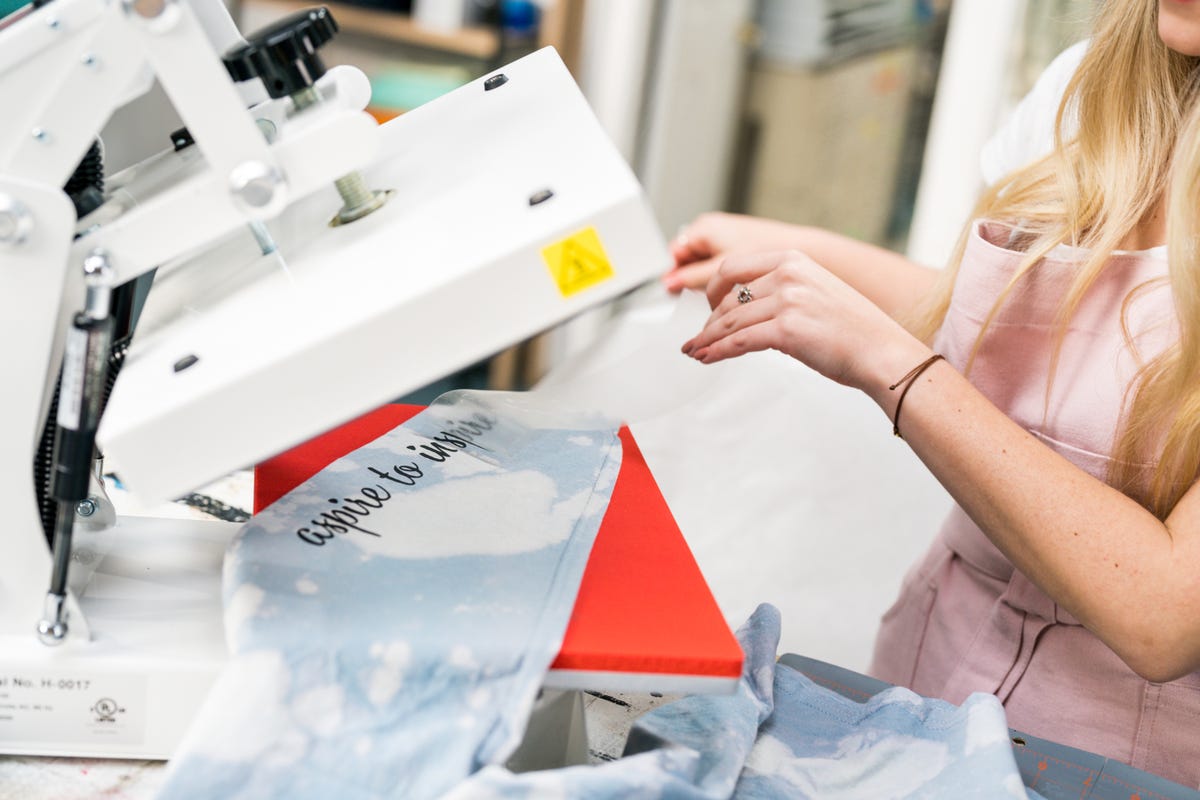 This project is beautiful in every way. The physical creations are gorgeous but so is the message that is woven into them.

The creator, Megan Duncan, is a small business entrepreneur based in Eugene, Oregon. While studying to be a nurse, she has developed a powerful mantra that is also a driving force for her creations: "Aspire to inspire".

Megan turns to these words to get her through the tough times. Let's be honest - we all have mantras of our own. She shares her mantra with nursing colleagues as well as health care workers by embellishing clothing with the message.

They deserve a little fist bump, even if they can't see it.

However, this special shirt isn't just for healthcare professionals. We can all make a difference and this shirt is a reminder that it starts with you. Everything does.
Products We Used
Blanks
As always, we encourage you to use the same products we've already tested and approved, but if you'd like to go your own way, we salute you! Just make sure the blank you are using is a similar fabric.

Additional blanks we recommend you use for this project are also listed at the bottom of the tutorial.
Reverse Tie-Dye Supplies
Water

Household bleach

Squirt bottle

Rubber gloves

Eye protection and mask

Protective sheet for your work surface

Rubber bands (optional)
Heat Transfer Vinyl Supplies:
Siser EasyWeed Heat Transfer Vinyl (HTV)

Teflon sheet (or parchment paper)

Vinyl cutting machine (we used a Cricut)

Weeding tool

Scissors

Heat press (or iron)

Standard grip cutting mat

Clear, acrylic ruler

Lint roller
---
NOTE: You'll be working with household bleach, which means that you'll need to work in an area that has plenty of ventilation – preferably, outside. We want you to get the creative juices flowing, but sucking in some bleach fumes is not what we had in mind.

If you're working indoors, open the windows, and keep your air conditioner or fan running to help circulate air and disperse the bleach fumes. Also, if you're indoors, you can protect yourself even more by wearing a mask or respirator. You don't need to go full Breaking Bad, but an extra layer of protection is a good thing.

Finally, when working with bleach, be sure to wear gloves instead of handling the liquid by hand.
The Making - Reverse Tie-Dying Your Shirt
Step 1: Prepare your work station
Lay a protective sheet over your work surface. Plastic is recommended because it won't absorb the bleach or discolor.

Now's the time to put on eye protection and a mask too, if you're using them.
Step 2: Fold, twist, and scrunch your t-shirt
On top of your protected surface, lay the t-shirt out flat.

Move, fold, twist, and scrunch the shirt until you have created a ball. At this time, you can use rubber bands to hold your scrunched ball in its shape.
Step 3: Bleaching your t-shirt for a reverse tie-dye effect
Fill the squirt bottle with equal parts bleach and water (1:1 ratio), then shake until fully mixed.

Spray the water and bleach mixture onto the t-shirt (front and back) in various places. THIS WILL GET MESSY! That's the point. Think five-year-old, desperately getting the ketchup onto a hotdog. There's nothing exact about this.

Let the water and bleach mixture soak into the t-shirt for about 10-15 minutes.
Step 4: Rinse your t-shirt
After 10-15 minutes, or when the fabric reaches your desired color, carefully carry it to the sink and thoroughly rinse the t-shirt under cold water.

Once the water runs clear, wring out the t-shirt.

Next, wash and dry the bleached t-shirt as you normally would your clothes.
The Prepping - Adding A Little Motivation
Step 1: Grab your washed and dried t-shirt
Once the shirt has been washed and dried, it's time to add another personal touch by adding a couple of words that mean something to you. It could be something you came up with on your own or something you borrowed from your favorite movie or band.
Step 2: Prepare your design
We're preparing our design in the Cricut design space. You'll need to check out the manufacturer's guidelines of your specific cutting machine to find details on how to sign up, install, and upload artwork.
Step 3: Prepare your heat press or home iron
If you're using a press, adjust the heat to 320 degrees Fahrenheit.
The Making - Putting Your Heart on a Sleeve
Step 1: Cut your design using your vinyl cutting machine
For this project, we used a Cricut. The following steps will make references to the Cricut guide, so please refer to your vinyl cutter's instruction manual.

Hit the "Make It" button located in the top right corner of your project page in the Cricut design space. The design will be displayed virtually on the cutting mat.

Edit the mat size or the design placement on the mat, if needed. If your artwork contains text like ours, you'll need to mirror the image to ensure that it reads correctly when it's applied to the t-shirt.

Follow the prompts within Cricut's design space. First, select the material you'll be cutting and the pressure at which it should be cut.
With the shiny side faced down, place the HTV onto a standard grip cutting mat while also being sure to smooth out any bubbles.

Insert the cutting mat into the Cricut by using the rollers as a guide. Once the mat hits the rollers, push the flashing arrow button. The machine will pull in the cutting mat. When it's ready to cut, the Cricut button will begin to flash.

Press the flashing Cricut button on the machine.

Once finished cutting, the machine will stop and the arrow button will flash. Push the flashing arrow button to release the cutting mat from the machine.

Remove the vinyl from the mat by holding the cutting mat down with one hand and use your other hand to pull the vinyl off the cutting mat away from you.
Step 2: Start weeding your vinyl
Take your weeding tool and pierce the corner of the non-shiny side of the vinyl. Then use the weeding tool to remove any excess vinyl from the design.
Step 3: Prepare your t-shirt
Use a lint roller to get rid of any unseen fibers that could be within the design placement area. This might seem like a small thing to do but it will make a big difference. You'll thank us later, we promise.

Next, give your t-shirt a 2-3 seconds pre-press. This will ensure your design placement area is as flat and dry as possible.
Step 4: Place your design
With the t-shirt still on the heat press, use the clear acrylic ruler to map out the design placement. Don't worry, the ruler is designed to withstand the high temperature of a heat press.

Then with the vinyl side facing down, place the design on the t-shirt.

Place a clean sheet of Teflon (or parchment paper) on top of the design.
Press the t-shirt for about 15 seconds. Make sure to review your HTV manufacturer's guidelines to confirm which temperature and time settings to use.

After 15 seconds, lift the press. Since we are using a hot peel, immediately peel off the plastic carrier. Be careful, it's hot!
Step 6: Wait for at least 24 hours to wash your t-shirt
We speak from woeful experience – washing too soon can make the transfer not bond to the fabric.

Always wash the t-shirt inside out, using cool water, and dry it with low heat to protect the transfer.

You've just made your own reverse tie-dye shirt, baby. Congrats!

Now, you can make more for loved ones, or anybody you think could do with a little pick me up. Give a nod towards those superhero healthcare workers. Or to anyone else who deserves a bit of love. And that's everyone, isn't it?