Family Reunion T-Shirts
Family Reunion T-Shirts
In this project, Allie applies transfers she outsourced from Supacolor to a crystal-dyed blank to create custom apparel that can be gifted and worn at family reunions. Finally, family outfits that fit everyone. Except maybe that one family member we don't talk about (looking at you, Bruno).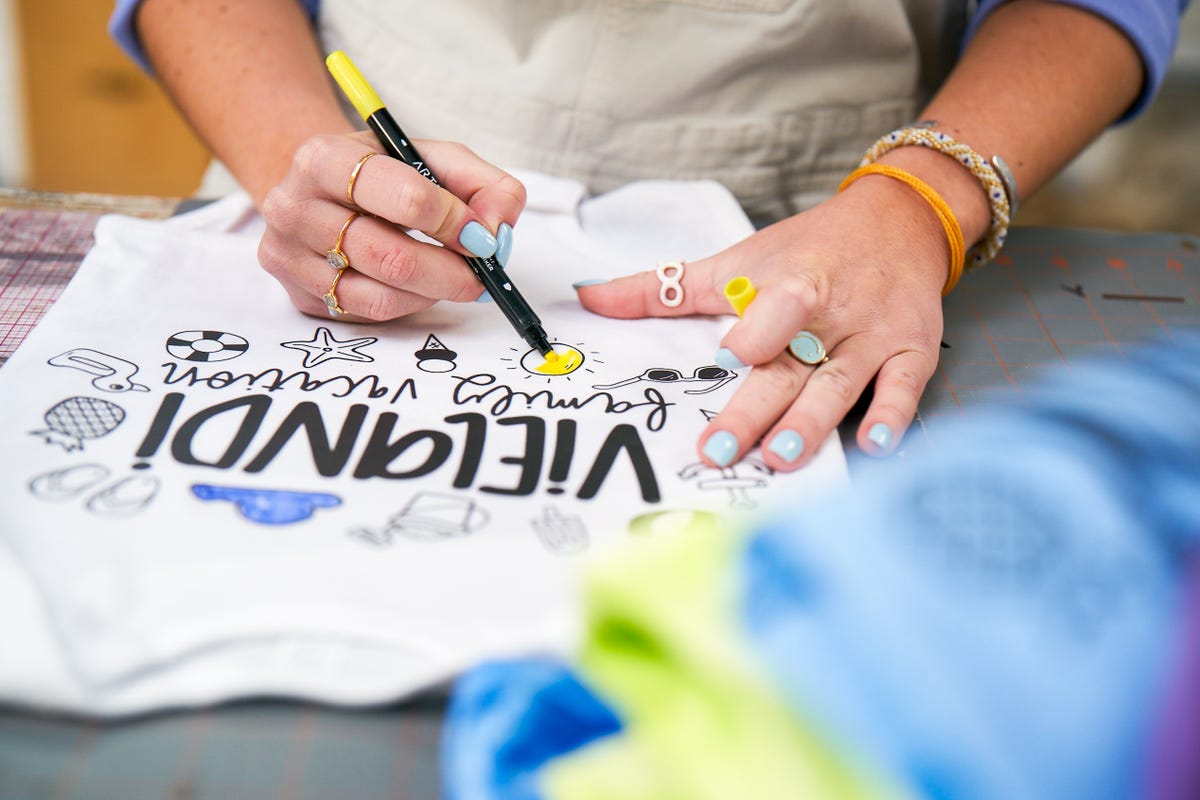 Family reunions. AKA: organized chaos. AKA: lessons in patience. Kids running all over the place. That one uncle who might have cracked his first beer a bit early. Mom asking you about when you're giving her another grandchild. Dad asking you if you've seen Ozark. (Again. He asked you that the last time you saw him.)

Through it all, there's a long table, groaning under the weight of a delicious home-cooked meal. There's laugh-until-you cry inside jokes. There's little, knowing winks when someone tells the same story they alllllllways tell. There's love. Always, a lot of love.

They say you can pick your friends but you can't pick your family. But if you could? You'd pick the same bunch in a heartbeat.

Why not use this occasion to appreciate that this time - right now - deserves to be tomorrow's memory?

That's exactly what crafter and designer extraordinaire, Allie Mitrovich, did. As owner of Allie Rose Co, Allie wants us to immortalize the everyday by creating apparel together.

In this project, Allie applies transfers that she outsourced to Supacolor onto a crystal-dyed blank. It's easier than you think. Simply create your own design and shoot it off to a transfer service company (like Supacolor) for them to turn it into a transfer. That means you can spend more time with your family and less time printing, cutting and weeding.
Products We Used
Blanks
As always, we encourage you to use the same products we've already tested and approved, but if you'd like to go your own way, we salute you! Just make sure the blank you are using is a similar fabric.

Additional blanks we recommend you use for this project are also listed at the bottom of the tutorial.
Supplies
Heat press

Clear, acrylic t-shirt ruler

Lint roller

Fabric markers

Parchment paper

Heat resistant tape
---
Step 1: Create the digital design using a program of your choice
In this project, Allie uses Procreate on her iPad and Image Trace in Adobe Illustrator to vectorize her design and minimize unsightly pixels. It's easy stuff.
Step 2: Outsource your design to a heat transfer company
Use a web-enabled device to place an order with a heat transfer service company, like Supacolor. This way, you wont need a sublimation printer or sublimation ink.

Outsourcing this part of the process to a transfer service company will help you get those family reunion shirts finished much faster. We recommend Supacolor, but other companies also provide this service. Each company has its own production and minimum order requirements, so choose accordingly.
Step 1: Prepare the heat press
Adjust the temperature and time settings to accommodate the fabric thickness of the blank. These will depend on the transfer you're using, so if you're not sure about which settings to use, contact your transfer company or check out their website.
Step 2: Prepare the blank
Remove any excess fibers with a lint roller.

Then, pre-press the blank for 3-5 seconds. This removes the moisture and ensures a wrinkle-free surface for applying the transfer. No one wants to see "The Johnsons" come out as "Th Jhnsns".
Step 3: Map out the heat transfer design placement
After pre-pressing, keep the blank on the heat press. Use your acrylic t-shirt ruler or other heat-safe tool to map out where you'd like to place the design.

Make sure there aren't any seams on the application site — we don't want the design to transfer unevenly.
Step 4: Place the heat transfer design on the blank
Place the design face-down on the blank with the carrier side facing up. The carrier should be between your heat transfer and the plate of the heat press. We suggest using heat-resistant tape to hold the transfer design in place on the blank.
Place a clean piece of parchment paper on top of the plastic carrier, and close the clamshell of the heat press. Keep it closed for the length of time recommended by your transfer company.

When the time is up, open the clamshell and immediately (but slowly and carefully) remove the carrier from the transfer by pulling it away. Don't worry, it should peel off easily. Pulling the carrier in the direction away from you makes this step easier.
Once cooled, your Family Reunion T-shirt is finished.
Making It A Full Family Affair
Decorate with fabric markers
Want to involve the kids? Just wait for your t-shirt to cool, and then give the kids a couple of fabric markers for them to get "creative" with your design. Tell them to go wild. Get MESSY! That one can always be for your ex.

The little ones will have hours of fun adding their personal touch and there's always something special about cousins hanging out, or working with aunts/uncles.

For the little ones at your reunion, consider using this Rabbit Skins Infant Short Sleeve Baby Rib Bodysuit (style RS4400), following the same steps above.
Yassssss! There it is. One shirt down and one more for each family member to go. You'll soon be ready to surprise the whole family with customized matching apparel.

This project gives us all of the feels. Yes, you will end up with something tangible but it's the bonding, the celebration and the appreciation of family that is so much more meaningful. Enjoy it.