Lina's First Wearable Product Line
Lina's First Wearable Product Line
During Lina's expansion into wearable products, we helped her test, make, and feel confident in her first apparel line. Learn from Lina's testing experience and see which of our blank t-shirts and tote bags she chooses in the end.
We've partnered with Lina, owner and creator of Lulu Sweet Kawaii Shop to help her on her journey of making her first wearable product line. If you've seen her shop, you know she's already mastered products like plushies, stickers, pins, stationary items, clay charms, mugs, and cups. But t-shirts? And tote bags? Print-on-demand and outsourcing the decoration process for these types of wearable products costs much more money and you need to have the space to store loads of inventory. Lina considered these options and quickly turned back toward the DIY route.

So Lina got herself a handheld heat press, ordered some heat transfers of her designs and started trying to do it all herself. With limited access to resources and overall lack of support, she was never 100% pleased with the final product.

This is where Press Hall comes in. We jumped in to support Lina on her journey. Starting by connecting Lina with our ambassador (and fellow small business owner), Megan of Meg Ann Co., who regularly makes wearables for her brand's product launches.

After that, we connected Lina with our friends at ProWorld and Supacolor. So that when she needed support with either her heat press or heat transfers, she'd have a person to help her. ProWorld set her up with a brand new 15"x15" TransPro clamshell heat press and Supacolor turned her designs into wearable heat transfers.

Finally, we did what we do best: We helped Lina narrow down a handful of blank t-shirts and blank tote bags to decorate with the custom heat transfers that she ordered from Supacolor. After some practice, testing on a few blanks, and learning to use her new clamshell heat press, Lina is confident and ready to start decorating blank t-shirts and tote bags for her first wearable product launch! Woohoo!!

If you want to learn more about Lina and her shop, Lulu Sweet Kawaii Shop, checkout her profile on Press Hall.
Otherwise, keep reading to see which blank t-shirts and tote bags she tested and get some insight on using a clamshell heat press to apply her custom heat transfers.

Lina's Favorite Blank T-Shirts For Heat Transfers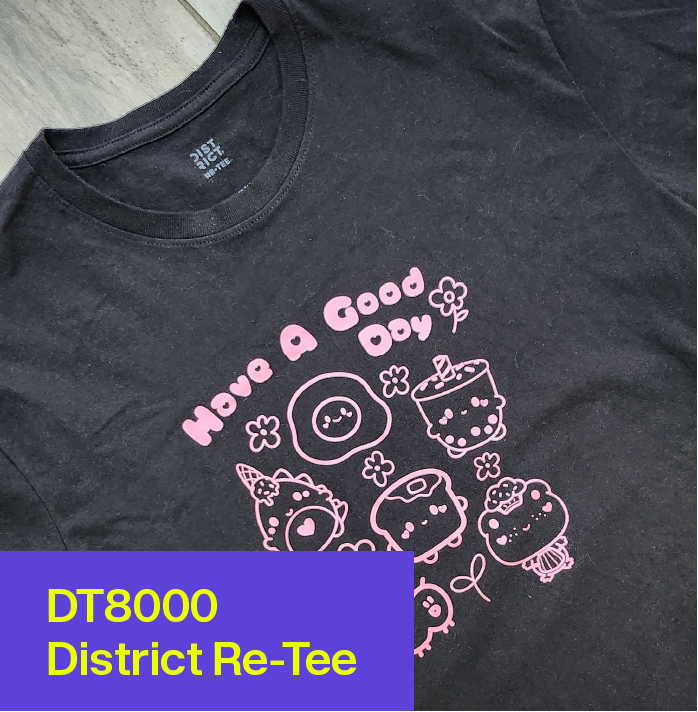 We sent Lina a variety of blank t-shirts in a few colors for her to practice and test with her Supacolor wearable heat transfer designs. After speaking with her, it was clear that she valued softness and longevity in a blank t-shirt. Like most apparel decorators who sell their creations, she wants her customers to be happy with her products, and that starts with the perfect blank t-shirt.

After testing and making with the blank tees we sent her, she decided to stick with styles like the District Re-Tee, The Concert T-Shirt, and the Very Important Tee.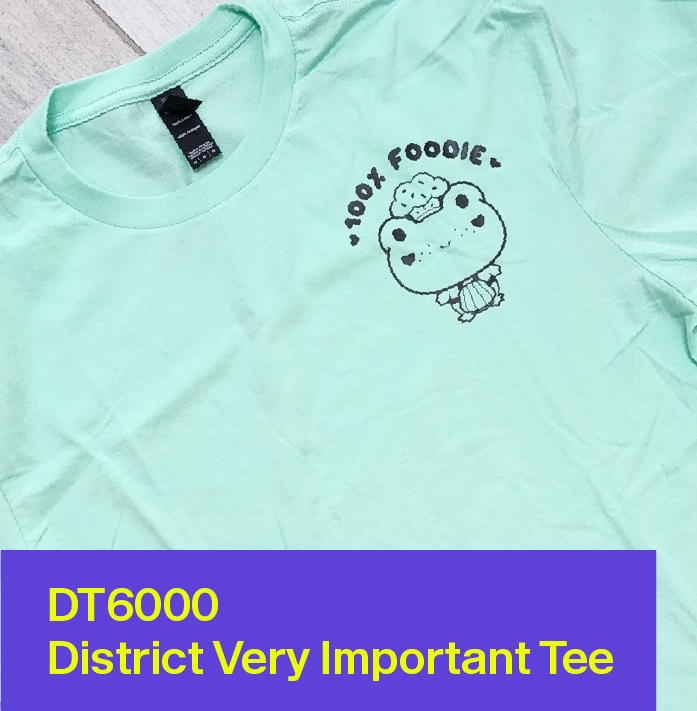 "I will be choosing my first set of blank t-shirts from the District and Bella + Canvas brands. I like how they are soft and lightweight. The fit of both brands is also ideal for my target audience. They come in a variety of colors and are very easy to use with Supacolor heat transfers."

"The District Concert T-Shirt was really easy to use with Supacolor heat transfers. It pressed so easily that the transfer paper came off right when the clamshell was released! After laundering, the shirt held up very well and my design stretched with the fabric."

Lina's Favorite Blank Tote Bags For Heat Transfers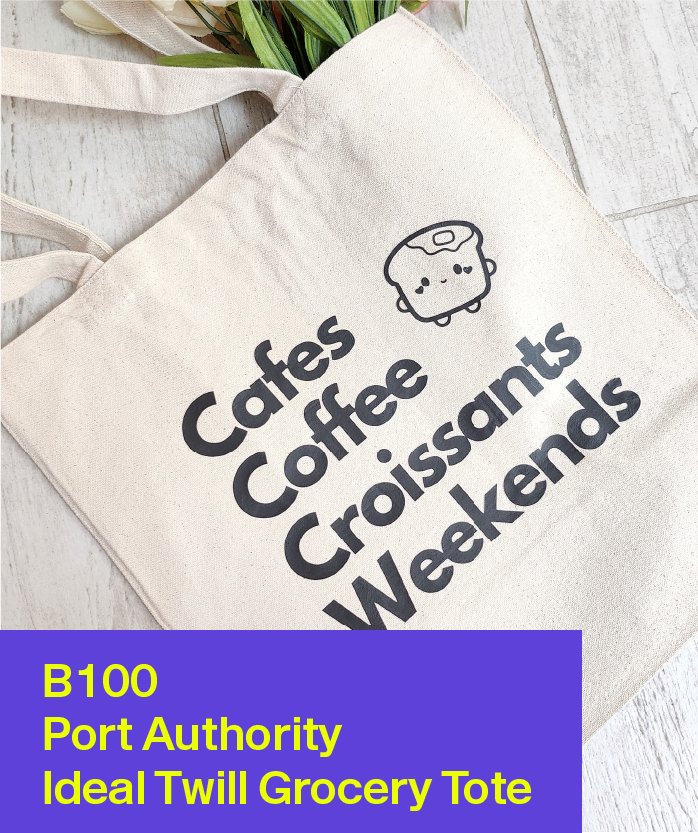 Lina had already decorated blank tote bags for her shop before but her final creations just weren't cutting it. She wanted a higher quality and more functional tote, so we recommended our favorite brand for blank accessories; Port Authority. We love how Port Authority makes great quality blank totes without breaking the bank. After we sent her a few blank totes to play around with, she chose the Port Authority Beach Wash Tote and Ideal Twill Grocery Tote for her first wearable product launch.

"I like how the Port Authority Ideal Twill Grocery Tote looks with my designs and the functionality and size of the bags are practical. Also the beach wash bag is preferable as a mid size tote and is perfect for my ideal audience."

What Type Of Heat Press Should You Use With Heat Transfers?
While heat transfer manufacturers like Supacolor are taking strides to improve the application experience for decorators using a handheld heat press (like this Cricut EasyPress), it's still not a fool-proof experience. It all boils down to pressure. With a clamshell heat press, you set the pressure and it applies that pressure evenly for you. A handheld heat press requires you to put some elbow grease in the game with each press and after 20 t-shirts, this get's pretty exhausting.

If you're planning on pressing designs onto t-shirts for your small business, you'll want a heat press that provides the easiest experience. Sure, you can start with a handheld since they are typically cheaper (~$150 to $200), but when more orders come through, fulfilling them will be easier with a clamshell heat press like the TransPro Clamshell Heat Press included in our starter pack.


Pressing Heat Transfers With A Clamshell Heat Press:
Seeing as though Lina had been using a handheld heat press, we set her up for success with the same 15" x 15" TransPro clamshell heat press that's included in our Starter Pack.

Here are a few tips from Lina on using a clamshell with custom heat transfers:
Once you get the pressure set correctly, it's an easy, breezy, beautiful experience.
After pressing, peel away the plastic carrier sheet swiftly from one corner.
If your blank has gussets (like the tote bags), try adding a blank t-shirt as a cushion under the tote bag and reset the pressure.

After using her new clamshell heat press, Lina told us that it's given her more confidence in her ability to make great quality apparel and accessories for her customers. No more wasted blanks. No more wasted heat transfers. Win, Win, Win!!

Whether you're a small business owner wanting to learn how to make your own clothing line, an artist wanting to decorate blank apparel with your art, or a maker wanting to expand your skill sets, we're here to support ALL makers. Wherever you are on your journey.

Contact the Press Hall team at (855) 919-2467 or email help@presshall.com