How To Tie Dye
How to Tie-Dye
Perfect your tie-dyed spiral technique with this how to tie-dye a t-shirt tutorial. Then apply your new knowledge to tie-dye other kinds of blank apparel and accessories.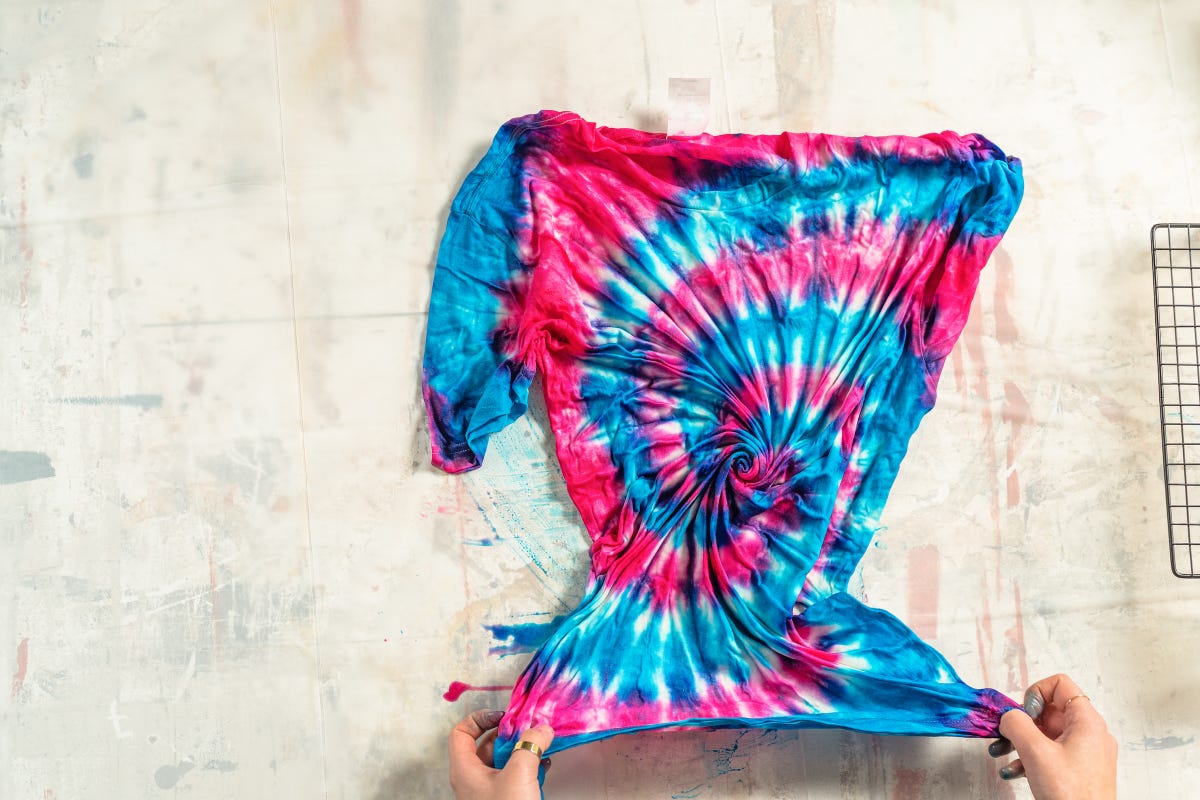 Tie-dye. In the words of Mugato…"so hot right now."
From fashion to sports. From the court to the runway. Tie-dye is everywhere. Lately, this colorful treatment is more haute than hippie, as it's been brought back from the wasteland of Woodstock.
We've seen the Bella Hadid collab with Chrome Hearts for a limited edition tie-dye collection. We've seen an entire episode of Project Runway dedicated to this psychedelic style. And we've seen our feeds flooded with people like Halsey and ASAP Rocky sporting their own tie-dyed fits.
Nike. Carhartt. Ralph Lauren. Gucci. Converse. Tommy Hilfiger. Calvin Klein. All of them have jumped on the tie-dye train.
Tie-dye might be trending hard now but it's been around for centuries as a practice, with a rich history in Africa, Asia and the Americas. Today, immigrant communities are credited with bringing this skill from countries like India, Japan, Indonesia, and the Philippines.
The tie-dye look for sure slaps but it also delivers on the sustainability front, as old pieces are given a new lease on life. People are picking up items at thrift stores and giving them their own spin, to either wear themselves, or to sell as something reworked.
If you're new to decorating apparel, this is a good place to dip your feet (*ahem* hands) into because it's nice and easy. It's a whole lot of fun and you could even get a bunch of people together to have a fabulous tie-dye party.
Tie-dye is not an exact science. Every piece leaves you a bit surprised at the end - waiting to see how it turns out is only half the fun.
Products We Used
Blank
As always, we encourage you to use the same products we've already tested and approved, but if you'd like to go your own way, we salute you! Just make sure the blank you are using is a similar fabric.

Additional blanks we recommend you use for this project are also listed at the bottom of the tutorial.
Supplies
Powdered dye for tie-dying

Squeeze bottles (one bottle for each color)

Rubber bands

Pliers (optional)

Baking rack

Plastic tub

Plastic tarp or tablecloth

Plastic gloves, apron, or work shirt
---
Step 1: Wash and dry your blank.
This removes any manufacturer's finishing that could compromise the saturation of your dye.
Step 2: Determine a tie-dye pattern and dye colors.
For this project we will be executing a traditional spiral pattern using fuchsia and turquoise dye colors.
Step 3: Gather all your supplies and set up your workspace.
As this technique requires dye, this step in the process is very important to ensure you protect your workspace and anything you don't want stained with dye, including your hands.
Step 4: Put on protective gear.
Again, the dye will stain. Before getting started this is the time to put on plastic gloves, an apron or work shirt.
Step 5: Wet your blank and wring out any excess water.
The blank should be lightly damp throughout before dying. This process will allow the dye to be easily absorbed and spread throughout the fabric with ease.

It's important to do this before you mix the dye to ensure you don't accidentally transfer any dye from your hands to your damp blank.
Fill a squeeze bottle with powder dye. We're using powder dye products that are individually packaged, each package contains enough powder to accommodate one bottle of dye mixture. Make sure to read the mixing instructions on your powdered dye.

Being careful not to splish or splash, fill the remainder of the bottle with water.

With the cap and lid tightly secured, shake the bottle until all the powder has dissolved.
The Making - Spiral Tie-Dye
Tie-dye patterns vary based on the way you fold, scrunch, or twist your blank. As you improve your technique, get bold and creative in experimenting with new patterns.

In this project we'll be executing the classic spiral pattern.
Step 1: Fold your t-shirt.
Lay your t-shirt flat on your workspace. Use your hand to brush out any wrinkles or creases in the fabric.

From the center of the t-shirt, pinch the fabric. We used a small set of pliers, but you can use anything you have on hand…even your fingers!

While pinching the center of the t-shirt in place with one hand, use your other hand to twist the rest of the t-shirt around to create a spiral design.
Step 2: Bind your t-shirt in its current shape.
Use rubber bands to keep the spiral shape intact during the dying process. Twine will work but in this case, we find rubber bands more efficient.

Take 3 rubber bands; use one hand to hold the shape of your blank and the other to wrap each band around your t-shirt. When you're finished, the bands should cross over each other in the center of the spiral so it looks like you have six pieces of a pie.

Use more rubber bands if needed, but we find 3 works well for this pattern and the amount of colors being used.
Step 3: Time to dye your t-shirt!
Place the baking rack on top of a plastic tub. Then place your t-shirt on top of the baking rack. As you dye your t-shirt, the tub will catch any runoff during the dyeing process.

Using the rubber bands as a guide, hold your squeeze bottle so the nozzle is slightly touching the fabric and squeeze. Move the squeeze bottle around to dye the entire pie piece. To alternate the dye colors, dye piece by piece until all sections are dyed.

Now, flip your t-shirt and repeat on the other side to ensure the entire t-shirt is completely dyed.

To keep the pattern consistent from the front to the back of your t-shirt, use the same color placement when dying the opposite side.
Step 4 : Let your t-shirt rest for at least 6 hours.
Curing the dye is extremely important. The longer you let your t-shirt sit with the dye in it, the more vibrant and saturated the color outcome will be. If rinsed too soon, the outcome could be dull and faded.

Leave the t-shirt bound in rubber bands for 6-8 hours.
Step 5 : Remove the rubber bands carefully.
Carefully remove the rubber bands. If removed abruptly, excess dye could splash where you don't want it to.

Move to the protected work surface you set up earlier and untwist your t-shirt until it's back to the original shape.
Step 6: Rinse your t-shirt.
Run it under lukewarm water, slowly turning it to cold water until the water runs clear.
Step 7: Wash and dry your t-shirt.
The washing process will continue to remove any excess dye that did not bond to the fibers in your t-shirt. Note that the color outcome will always be lighter than the color prior to washing.

We also recommend washing the t-shirt alone to ensure the excess dye does not transfer to any other garments while washing. Think of a red sock in white load and everything comes out pink.

The drying process will then set the color.

Tie-dye began as people started to embrace counterculture. We think you're ready to continue in that spirit. You're a modern maker, and this project gives you the chance to fight back against the boring, homogenized clothing out there.

Get creative. Get messy. And most importantly, HAVE FUN!