How to Sublimation Print
Have you heard all the buzz about sublimation projects? Dye sublimation offers vibrant and long-lasting results. We've got everything you need to know in this sublimation printing tutorial.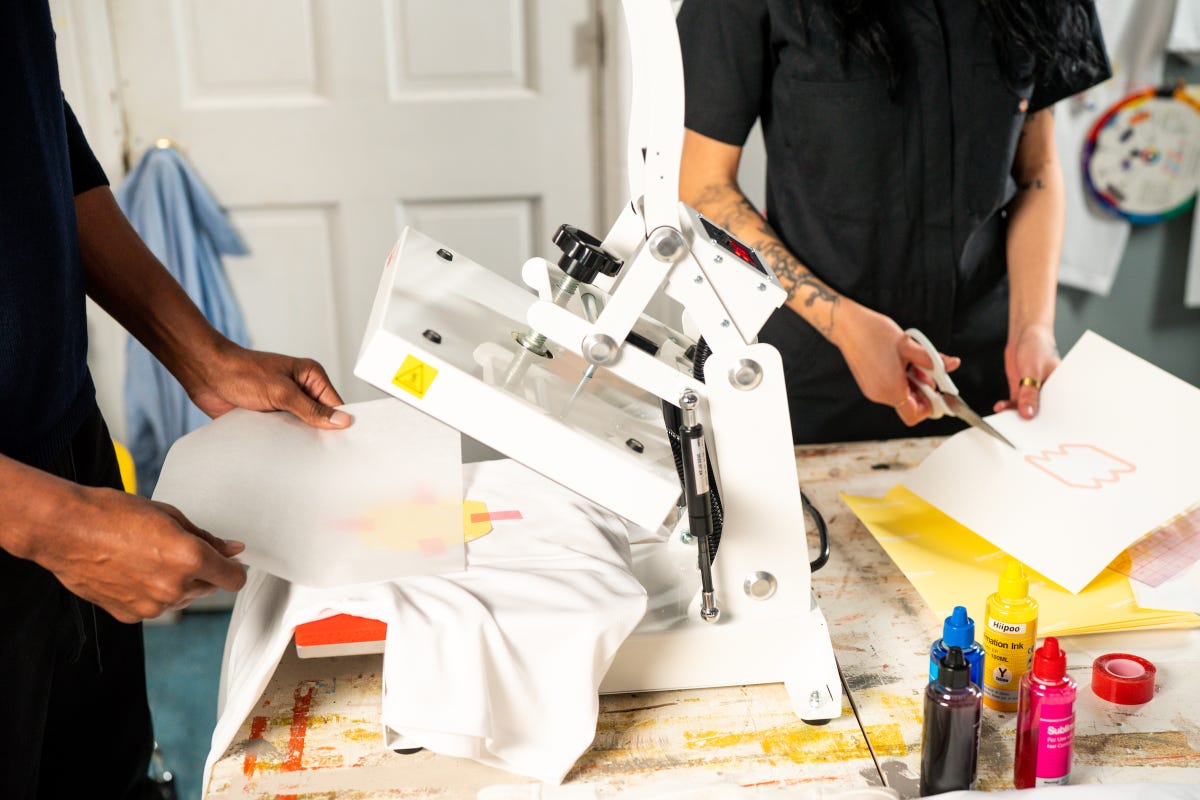 Let's start with a simple science lesson. Pull up a chair. Scientists (and Bill Nye) taught us that the world is pretty much exclusively made up of solids, liquids, and gases.

Still with us? Good.

We also know that heat can change a solid into a liquid (think melting ice) and even into a gas (steam). So…with the change in temperature, every material can change from one state to another.

Still, STILL with us? Thank you - we appreciate it! And, we're getting somewhere, we promise.

Now, under certain specific conditions of temperature and pressure, a solid may directly change into a gas. This is the process known as Sublimation.

🤯

Don't worry, you can still decorate apparel using sublimation without knowing how the science part works. All you really need to know is what this means for you as a decorator. When you learn to sublimate, you'll be able to print a multi-colored design onto regular paper and transfer that design permanently onto a sublimation-ready blank.
Products We Used
Blank
Note: Due to the nature of the sublimation process, this project will require 100% polyester blanks in white to yield the best result.

As always, we encourage you to use the same products we've already tested and approved, but if you'd like to go your own way, we salute you! Just make sure the blank you are using is a similar fabric.

Additional blanks we recommend you use for this project are also listed at the bottom of the tutorial.
Supplies
Sublimation paper (or regular printer paper)

Sublimation ink

Sublimation printer or inkjet printer compatible with sublimation ink

Acrylic t-shirt ruler

Lint roller

Parchment paper

Heat press

Heat-resistant tape
---
Things To Know Before We Get Started
Before getting started, let's discuss some important details of the supplies needed to sublimate.
Sublimation paper is designed to absorb and retain ink. However, sublimation also works with regular printer paper!
Remember how we got all Bill Nye and were talking about how sublimation turns ink into gas when activated by heat, and then how the gas then bonds to the synthetic fibers in the fabric? Sheesh. Well, that's all good and well but it still falls flat if you use the wrong fabric. You want 100% synthetic white fabric here. It's ideal for this process, as it allows for a crisp background to best showcase the preferred color. It'll end up with bright, vibrant colors that pop like champagne corks on Nikki Minaj's tour bus.

If you're after a more muted look, use lighter, non-white colors.
There are a couple of options available when choosing your heat source. A clamshell heat press is ideal but other heat press options like a handheld heat press or home iron will do the job. Whatever route you go, remember that the number one thing we are shooting for here is to evenly apply the same amount of heat and pressure throughout your design.
Sublimation Printer or Inkjet printer:
Okay, no shortcuts here. You absolutely will need a sublimation printer for this job, or an inkjet printer compatible with sublimation ink.

If you're going for the inkjet printer route, just remember that you must use an inkjet printer that has not been used with inkjet. It has to use sublimation ink from the start and you will not be able to go back to regular printer ink after the fact.

Ready? Ready. Let's get into it.
Step 1: Create your sublimation design.
Download or create your own digital artwork design to fit your paper.

Whatever you go with, once you're happy with the design, print it onto sublimation paper (or regular paper) using a sublimation printer, or using an inkjet printer compatible with sublimation ink.

Then, cut around the print out leaving a ½" - 1" border.
Step 2: Prepare your blank for sublimation.
Wash and dry your blank to remove any finishes leftover from manufacturing.

Then, remove excess fibers from the design area with a lint roller.
Step 3: Prepare your heat source.
If using a heat press, set the temperature to 375 - 395 degrees Fahrenheit and the timer for 45-60 seconds.

For an iron, turn it to the cotton/linen setting with the steam turned off.
Step 4: Pre-press your blank for 3-5 seconds.
This ensures that the surface is completely flat, and that all moisture is removed from the fabric.

Keep the blank on the heat press.
Step 1: Place your design.
Use an acrylic t-shirt ruler or other heat-safe tool to map out where you'd like to place your design.

Make sure there aren't any seams on the application site — we don't want the design to transfer unevenly.

With the ink side faced down, place your printed design on the blank. The carrier should be between your heat transfer and heat plate. We suggest using heat-resistant tape to hold the heat transfer in place on the blank.
Place clean parchment paper over the design and blank.

Apply heat to the design for 45 - 60 seconds.

If you're using an iron, try to keep the heating consistent across the design for the full amount of time. Do not move it around.
Step 3: Remove the heat from your blank after 60 seconds.
Remove the parchment paper and slowly peel a corner of the paper cutout to double-check that your design has fully transferred. If it did not, lay the peeled corner back down, grab a new sheet of parchment paper and re-apply heat as needed until the design has transferred.

Reveal your finished product by removing the paper with your design and heat-resistant tape.

Holy customized, sublimated cow. Would ya look at that? Science and art, working together. Left-side-brain meets right-side-brain. Part Picasso. Part Pythagoras. Welcome to the world of Sublimation printing.