How To Use Sublimation Markers
How to Use Sublimation Markers
Whether you call them sublimation markers or infusible ink pens, they are all the same thing. And they're AWESOME! Learn how to use sublimation markers to customize clothing and accessories.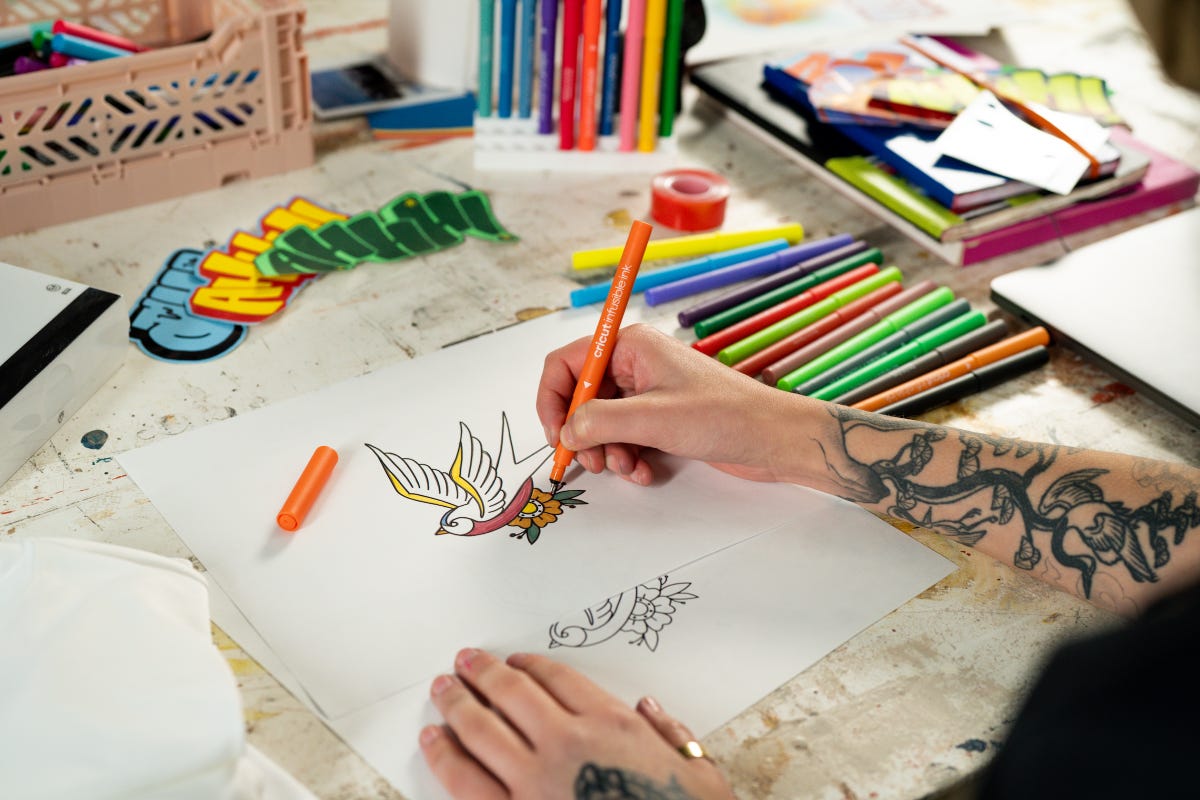 Sublimation markers (which Cricut calls infusible ink markers) are a seriously impressive tool for any maker to have in their toolbox. It allows you to sublimate without a printer or fancy heat press. The sublimation ink inside the markers is expelled just like any regular marker on paper. Heat from your iron turns the ink into a gas, which then bonds to the synthetic fiber in your blank. Your design is then transferred from the paper to your blank, permanently!

All of the scienc-y talk is not reallllllly super important for you to know. Not really. What is super important, however, is to equip yourself with the right tools, and the right knowledge.

Luckily, we offer both at Press Hall, remember?!

The fabric is the most important thing here, as it will need a high synthetic fiber count. We find 100% synthetic to be the best choice of fabric and personally we like using white fabric because it allows the sublimation ink to pop. That said, you can pull this off on other light colors, if you're looking for a more muted look.

We're big fans of this technique. The color outcome and level of detail you can achieve is insane but it's also cool because the process is really quick and permanent. Design, print, heat, Done. Lastly, this treatment won't add any weight or bulk to the end piece, making it a really good option for performance apparel.

You'll be making use of infusible ink markers (Cricut's version of sublimation markers) for this project, making it an easy way to include friends or even kids. Sublimation markers are awesome, as they are compatible with regular paper and you don't need any fancy machines either.

No sublimation printer? No problem.

You'll discover pretty soon that there is a huge variety of options you'll be able to dip into, as the creative process starts. If you can doodle it, you can sublimate it. Let's get started!
Products We Used
Blank
This project works best with white or other lightly colored blanks of at least 50% polyester fabric material. For the best result, use a 100% polyester white blank.

As always, we encourage you to use the same products we've already tested and approved, but if you'd like to go your own way, we salute you! Just make sure the blank you are using is a similar fabric.

Additional blanks we recommend you use for this project are also listed at the bottom of the tutorial.
Supplies
Heat press - we used a handheld heat press; a home iron or clamshell heat press can be used in lieu of a handheld.

Desktop printer or coloring book page

Printer paper

Scissors

Clear acrylic ruler

Lint roller

Parchment paper

Pressing mat if using a handheld heat press
---
The Prepping - Creating Your Design
There are several ways you can create a design using sublimation markers. Doodle your own design from scratch like Picasso or play it safe and trace a design from a coloring book. Here are 3 ways to draw with sublimation markers.
Using a device and a regular printer, print the design onto regular printer paper. Then, using the sublimation markers, color over the printed design.

Keep in mind, only the marker color will transfer to your blank, any ink from the printer will not.

Note: If the design contains text, it will need to be mirrored prior to printing so that it reads properly once transferred to the blank.
Using a Coloring Book Design
Tear a page from a coloring book and color it up using sublimation markers.

We recommend using pages without text as it would have to be mirrored to read correctly once transferred to the blank.

If you really want to add text you can mirror it by flipping over the paper and tracing the text with a sublimation marker on the back of the paper.
Using sublimation markers, sketch your design directly onto printer paper.

Again, if you want to use text in your design here are some ways to mirror your text so it reads properly:

Use your desktop printer to print the text onto paper. Flip over the printed paper and trace the text with a sublimation marker, then continue to draw the rest of your design.


Free-hand your text and then flip over the paper to trace the text with a

sublimation marker.

Continue to draw the rest of your design.
Step 1: Wash and dry your blank.
This removes any manufacturer's finishing or excess fibers.
Step 2: Prepare your heat source.
If using a heat press, set the temperature to 375 - 395 Fahrenheit and the timer for 45-60 seconds.

For an iron, turn it to the cotton/linen setting with the steam turned off.
Step 3: Map out your design placement.
Lay your blank flat on your workstation and use a clear acrylic ruler to map out your design placement.

Lint roll the chosen application site to ensure all loose fibers are removed to prevent any voids in your design once transferred.
Step 4: Cut out your colored design.
Using a pair of scissors, cut out your colored design while leaving ½" – 1" border.
Step 5: Place and secure your cut out design on your blank.
Place the cut out design on your blank with it's colored side faced down so the ink touches the face of the fabric.

Use Siser's heat-resistant tape to secure the cut out design in place. This is a very important step, if the design moves during the heat application, it will result in a blurry or smudged outcome.
Step 6: Prepare to apply heat.
Place clean parchment paper on top of your design.

Apply heat to the design for 45 - 60 seconds.

If you're using an iron, try to keep the heating consistent across the design for the full amount of time. Do not move it around.
Step 7: Remove the heat from your blank after 60 seconds.
Remove the parchment paper and slowly peel a corner of the design to double-check that the ink is fully transferred. If it did not, lay the peeled corner back down, grab a new clean parchment parchment paper and re-apply heat as needed.

Reveal your finished product by removing the paper with your design and heat-resistant tape.
And you thought sublimating at home was going to require a bunch of fancy machines and stuff, didn't you? Nope! It's really this easy. Now get out there and make something awesome!