How To Start A Clothing Brand On Etsy
How To Start A Clothing Brand: Is Etsy Right For You?
Ready to start a clothing brand? This step-by-step guide will walk you through all the steps of how to sell on Etsy and hopefully help you decide if Etsy is the right place for you to sell your custom clothing.
First off, if you haven't seen it already, we have a guide on How To Start A Clothing Brand that you should follow first, before you create a shop on a marketplace like Etsy or Shopify.

In this article, we will walk you through how to:
Create an account on Etsy as a seller
Decide between Etsy Standard and Etsy Plus
Set up your first product listings
Configure payment methods in Etsy
Design your Etsy shop's landing page
At this point, you should have already bought decoration-ready blanks at Press Hall, decorated them, and captured visuals of them.

The great thing about selling on Etsy is that you don't need to rely on your brand's social media presence to get people to your shop page. Since Etsy is a marketplace, there are already customers shopping. All you need to focus on is your product listings and fulfilling orders. Leave the stress of running a TikTok account aside. Or don't. Who knows? Your brand might just become the next viral sensation!


5 Steps To Start Selling On Etsy
Step 1: Create an Etsy account.
Creating an account is free, however, you can upgrade your account from the free version (aka Etsy Standard) to the $10 per month Etsy Plus subscription package at any time.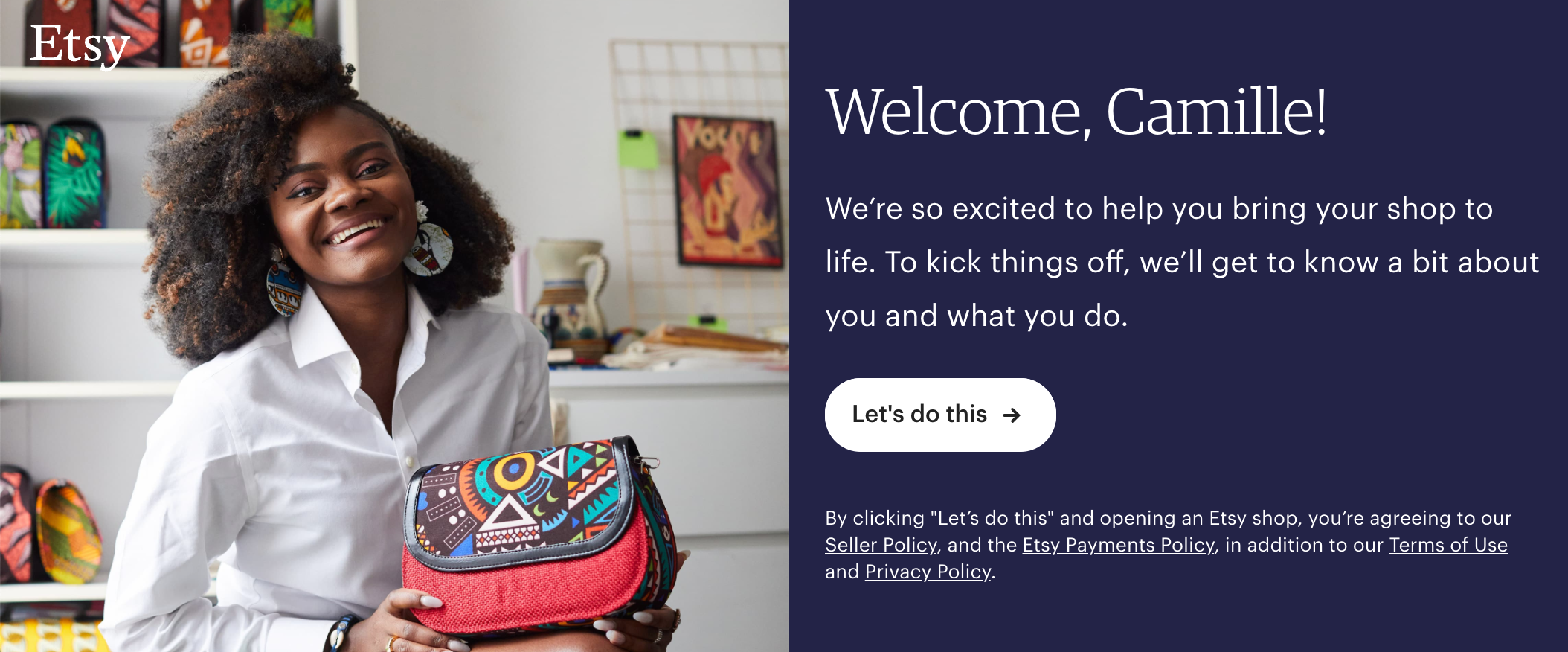 Step 2: Decide between Etsy Standard VS Etsy Plus.
Etsy allows users to toggle between Etsy Standard and Etsy Plus at any time.
One thing that you can't change at any time is your shop's name. You are limited to one name change after the initial setup.
Etsy Standard is free and allows you to sell your products on Etsy. Basically, all you pay is 20 cents for each of your product listings (until it sells for 4+ months) and for every transaction you'll owe Etsy 6.5% of the listing price.
Etsy Plus is a $10/month subscription upgrade that includes credits for shop listings, Etsy Ads, access to discounts for a custom web address, restock requests, advanced shop customization, and more.
Don't just take our word for it, here is the full list of what's included with Etsy Plus subscription.
We suggest new clothing brand owners start off with the free version (Etsy Standard) and once you have followed the remaining steps to start selling on Etsy, upgrade to Etsy Plus to help sell more of your products.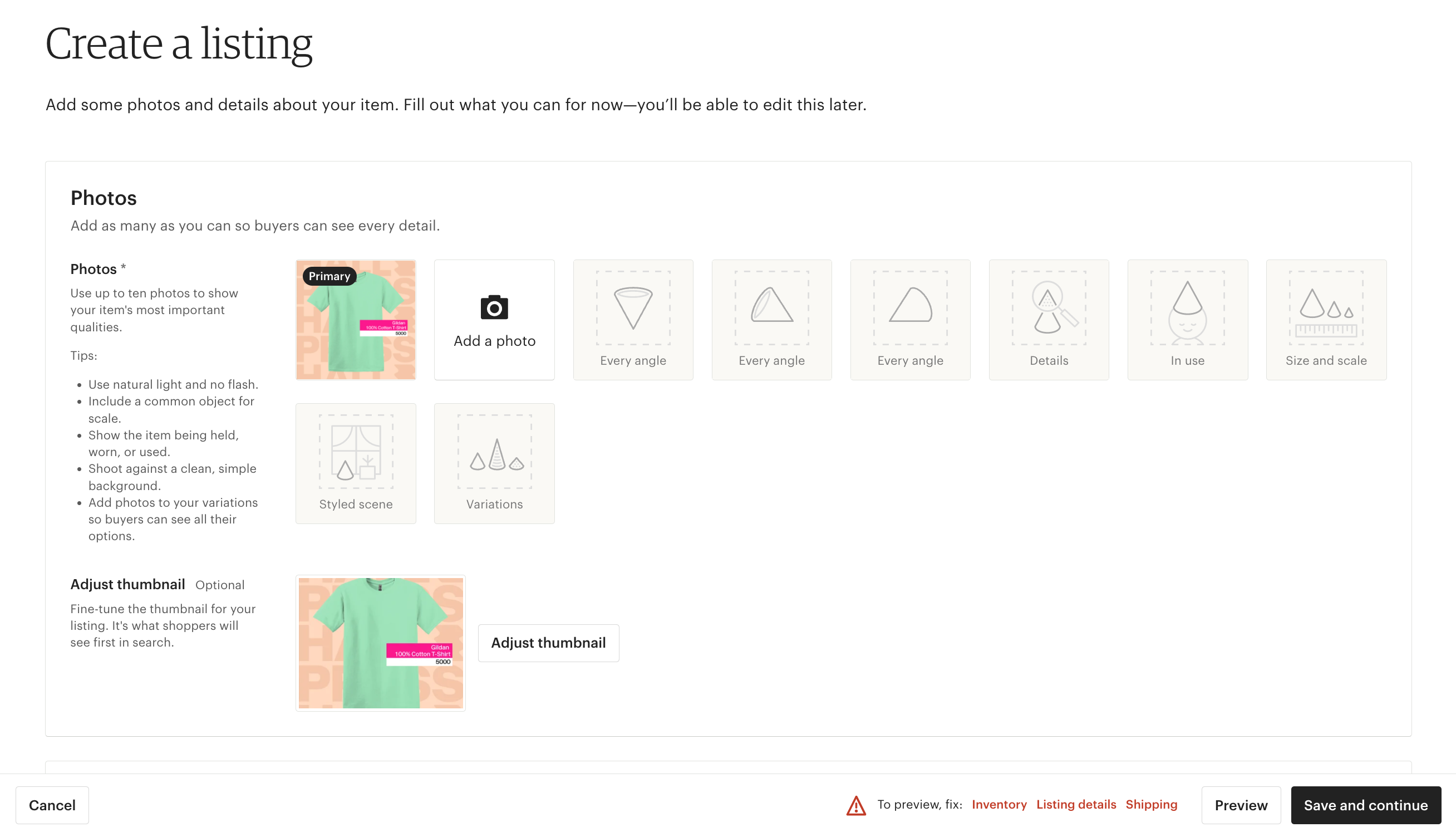 Step 3: Set up Etsy product listings.
Creating awesome product listings is crucial for a successful Etsy shop. You can sell both physical and digital products, but the process for digital products is a bit different than physical products. To create physical product listings in Etsy, you should take clear and engaging photos and videos of your product.
One trend we've seen many custom apparel brands do to start off when they don't have the funds to keep and manage an inventory is this; Create one item per listing and use it to take photos and video of the finished product. Then upload the pictures and video to the product listing in Etsy. You'll need a smaller thumbnail image too. Many makers start off with made-to-order products at first. Just be sure to note your estimated processing time in each listing so your customers know what to expect.
The last few steps in creating a product listing in Etsy is to decide your shipping fee and product price. Here's a tip: You can save 30% on USPS shipping labels when you purchase them through Etsy.
And finally, when you are satisfied with your Etsy product listing, publish or save the listing. When you have future product launches or additional products, you can always go back and add more product listings as you need.


Step 4: Configure payment methods in Etsy.
Getting paid on Etsy starts here. This step is crucial so you can get money and grow your clothing brand! You'll need to connect your Etsy account and bank account in order to receive your payouts from the purchased items in your shop. Be prepared to add a debit or credit card to your account to pay your bills from Etsy.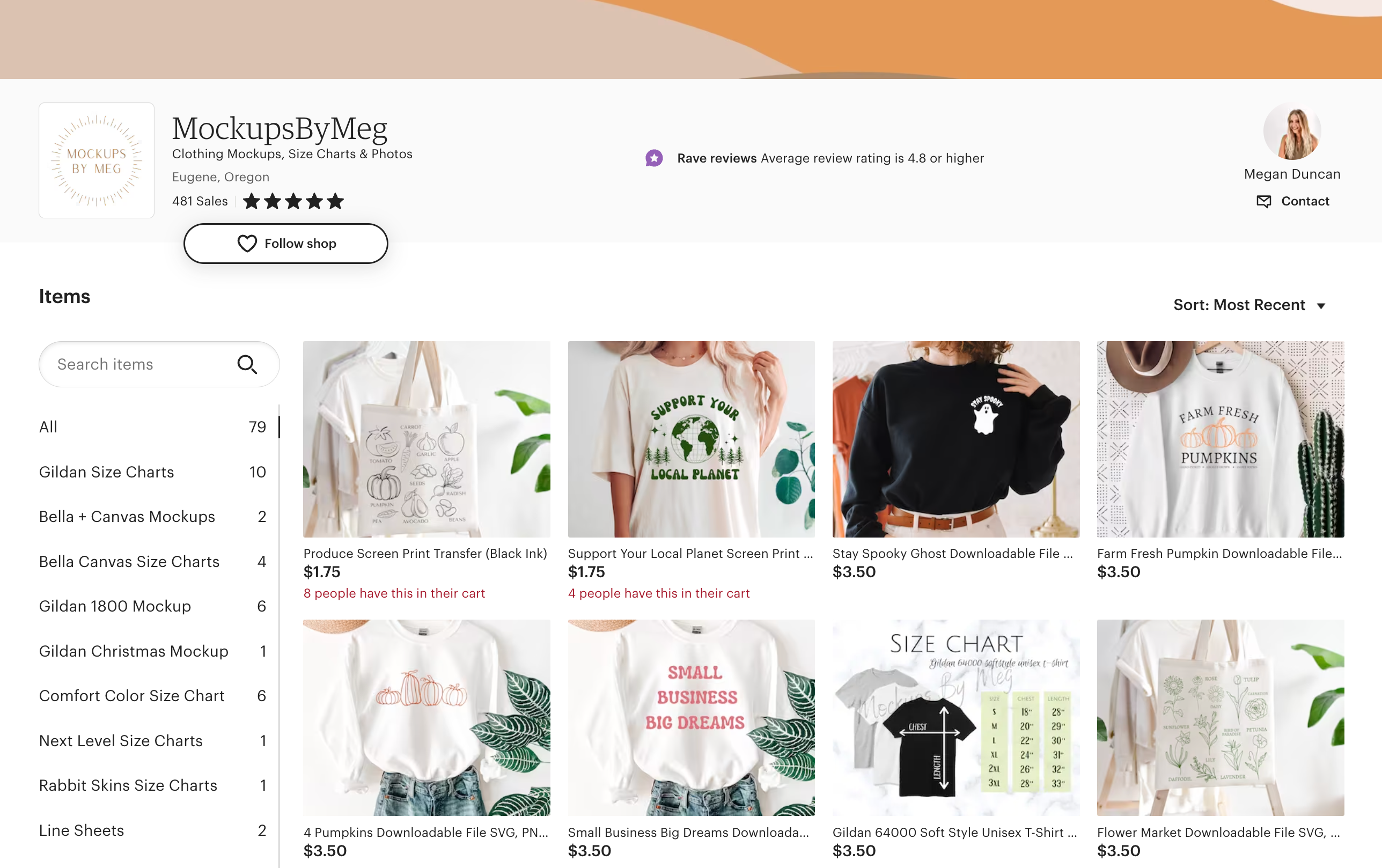 Step 5: Design your Etsy shop's landing page.
Spend some quality time thinking about your brand. What do you want it to be? What are the values your brand embodies? Now go back to your shop's landing page and add an "About" section, share your brand's story, history, and make sure to add any little details on your shop's landing page that will help shoppers be confident in making purchases from you. And boom, you're done!