Make Promotional Gear For Your Organization
How to Make Promotional Gear for Your Organization
Learn why and how to make your merch for your club, organization, or other social group. You'll be surprised how much money you save and how much easier it is to get the word out about your group with DIY promotional gear.
Do you belong to a club, social group, or organization? Chances are, you've experienced promotional gear that helps get the word out about your group. Maybe that gear was ordered and manufactured by a commercial decoration company. With easier access to decoration tools like at-home vinyl cutting machines, heat presses, embroidery machines, literally anyone can make promotional gear, including you!

We've helped organization leaders learn to embellish their logos onto things like t-shirts, tote bags, sweatshirts and so much more.

When you choose to make promotional gear for your social group or organization, you'll be able to:
Offer live pressing sessions at your events, which allows your attendees to be part of the decoration process.
Cut out middle-men and raise more money for your organization.
Make as much promotional gear as you need and when you need it.
Decorate any of our 1600+ blank apparel or accessory products and get expert support before, during, and after your purchase.
The opportunities are endless when you get set up to make your own gear for your organization members. Learn more about the starter pack today!
Become a Decorator For Your Club or Organization in 3 Easy Steps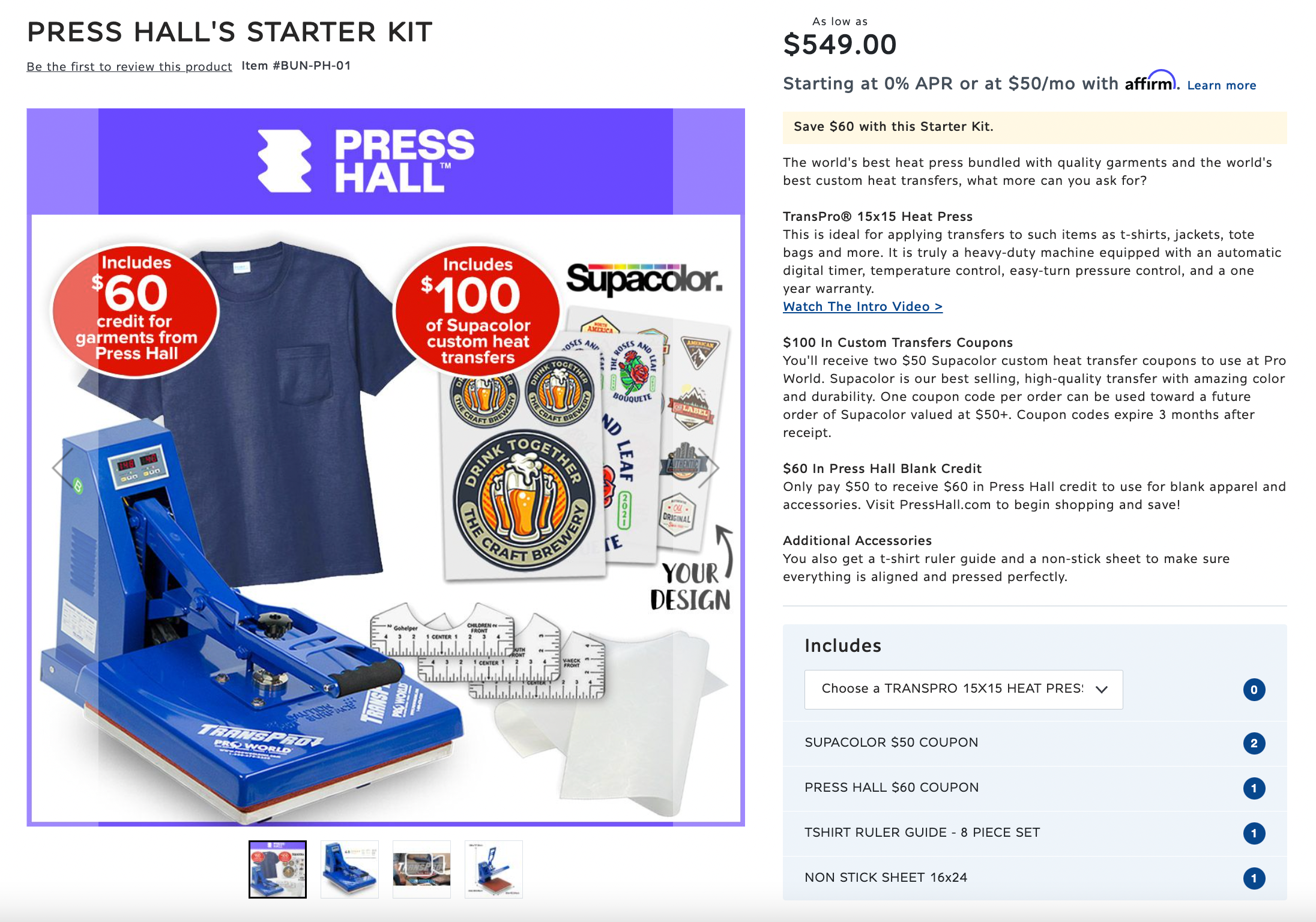 Step 1: Get the starter pack.
We've partnered with Pro World to offer a starter pack that helps beginners learn to make their own clothing and accessories.
The starter pack includes a 15" x 15" clamshell heat press, clear t-shirt rulers, a teflon sheet, a $100 credit on Pro World to turn your designs into easy-to-use heat transfers, and $60 credit for blanks from Press Hall. Overall, you save $60 on the total value of the starter pack.

Step 2: Redeem credit for blanks at Press Hall.
Every project starts with a "blank". This may seem like a weird typo, but it's not! "Blank" is short for "Blank Apparel" or "Blank Accessories", which is where Press Hall comes in.
As part of our starter pack, you'll receive $60 credit to purchase blank apparel or accessories on presshall.com. For those planning to make DIY promotional gear for a club or organization, we suggest browsing our blank tote bags, t-shirts, hoodies, or crewneck sweatshirts.


Planning an event soon?
Say you have an event coming up and you want to make and sell some promotional gear to raise funds and awareness for your group. With t-shirts starting at $2.45, the $60 credit at Press Hall can get you started with 20 t-shirts.



Step 3: Redeem credit for wearable heat transfer designs on Pro World.
If you don't know what "heat transfer designs" are, that's alright! Basically, we partner with "heat transfer manufacturing companies" that will print your digital logo or design onto heat-safe carriers that are then permanently adhered to the blank of your choice using a clamshell heat press.
As part of our starter pack, you'll receive $100 credit to purchase wearable heat transfers with your chosen designs or logos. When you're ready to make promotional gear for your organization or social group, just head on over to Pro World to submit your design(s).

Step 4: Start making! Follow along with our free step-by-step tutorial.
Once you receive our starter pack, decoration-ready blanks, and heat transfer designs, you are ready to start your first project! You'll be able to make all kinds of DIY promotional gear for your organization for a fraction of the cost.






Our in-house team of makers have been in your shoes before! We'd love the opportunity to help you on your journey of becoming a DIY decorator in your community. Call (855) 919-2467 to talk to a member of our team.
Are you interested in decorating in other ways? From HTV and embroidery to sublimation and screen-printing, we've got expert support and free tutorials to help you learn how to make gear for your organization, club, or other social group.
Ready to start making?
Check out these educational articles to get you started.
See mroe