How to Make Band Merch
How to Make Merch For Your Band With Supacolor
Get the word out about your music group with custom merch, made by you! We'll show you how we did it for our friend who's in a band called Subtle Triumph.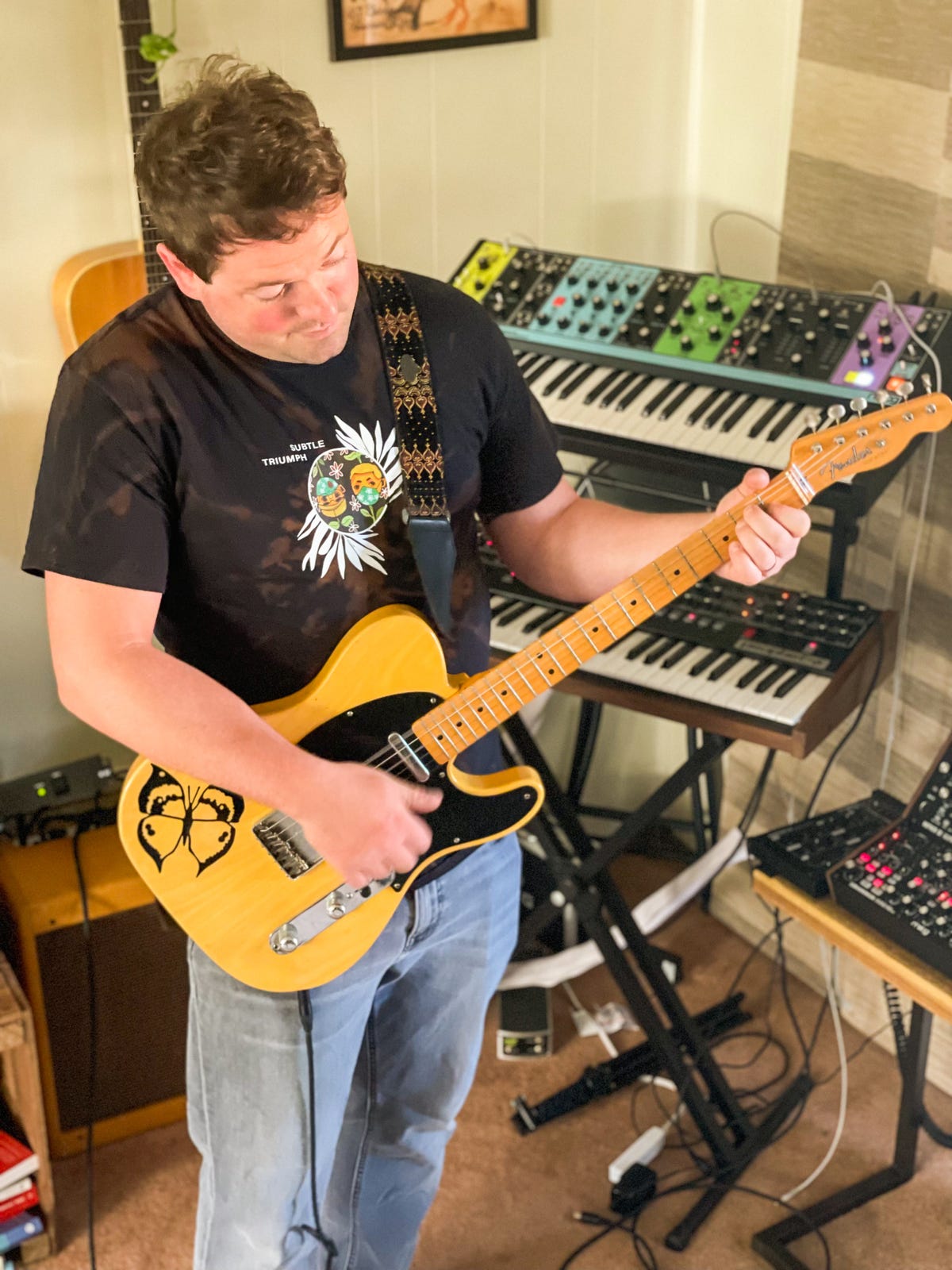 You may be wondering why you should make it yourself when you can order from a company that will do it for you? For starters, when you make it yourself, you can make it truly your own.

Each part of the design process is under your control. You can mix decoration techniques like we did or keep it simple. One thing is for sure, your custom, made-by-you band merch will have your groupies in a line around the block waiting for a chance to buy one (or five).

You won't be stuck with 15 extra shirts that never sold because you can make whatever and whenever you want.

Maybe you underestimated the amount of shirts you need. Well, once you're set up with a clamshell heat press, the world is your oyster! Just order more blank t-shirts from Press Hall and more wearable heat transfers from Supacolor heat transfers from Supacolor and you're good to go. You'll have your custom band merch available to your fans in much less time than if you were to order t-shirts from a place like Custom Ink, which takes 2 weeks to receive the product.

You can make it better, we promise. Plus, we're here for you every step of the way. Contact our team at (855) 919-2467 or visit our help center to get access to the expert knowledge on our team.

Now, let's put the instruments away and learn to make some band merch together!
Products We Used
Blank
Additional blanks we recommend you use for this project are also listed at the bottom of the tutorial.

As always, we encourage you to use the same products we've already tested and approved, but if you'd like to go your own way, we salute you! Just make sure the blanks you are using are at least 50% cotton.
Supplies
A clamshell heat press

Parchment paper or teflon sheet

Equal parts bleach & water mixture

Spray bottle

Rubber bands (optional)

Protective gloves

Lint roller

Acrylic t-shirt ruler
---
Step 1: Create your band logo or design.
You may already have a digital logo or design for your band. If you don't, use one of the many applications available to create one, like Figma, Canva, Adobe Photoshop, or Procreate. Just make sure you're creating it to be the right size. Our design was 8" x 8".

Worried about sizing? No problem! Supacolor has templates to help you figure out what size your digital design or logo should be.
Step 2: Order wearable heat transfers from Supacolor.
Make an account on Supacolor's website. Psst.. you'll get a free sample kit just for joining. Submit your digital design to Supacolor and order wearable heat transfers.
Step 3: Order blank t-shirts from Press Hall.
Shop for cotton blanks on Press Hall. We've got long sleeve t-shirts, short sleeve t-shirts, hoodies, sweatpants and so much more to choose from. For our band merch, we ordered 25 t-shirts (PC54) in black.
Step 3: Order blank t-shirts from Press Hall.
Shop for cotton blanks on Press Hall. We've got long sleeve t-shirts, short sleeve t-shirts, hoodies, sweatpants and so much more to choose from. For our band merch, we ordered 25 t-shirts (PC54) in black.
The Making - Bleach Dyeing
Step 1: Gather bleach dyeing materials.
Gather the materials you need to bleach dye (aka "reverse dyeing). You'll need protective gloves, a 50/50 bleach & water mixture in a spray bottle, your blank t-shirts, and clean water source nearby to stop the bleach from eating away at the fabric.
On a protected work surface, scrunch up or fold your blank t-shirts. For a more consistent look, be sure to scrunch or fold them using the same technique. For most of our shirts, we pinched the center of the shirt with our fingers and brushed the excess fabric to spiral around the center.
Step 3: Apply bleach & water mixture.
Using a spray bottle of equal parts bleach and water, spray the mixture over the scrunched shirts.
Step 4: Wait 10 to 15 minutes.
Let them soak for about 10-15 minutes or when it reaches the preferred color. Keep in mind that blank apparel with higher cotton content will bleach quicker than fabrics with more synthetic fibers, so be sure to keep a close eye on them.
Step 5: Rinse your t-shirts.
After 10-15 minutes, carefully transfer your shirts to a cold water source, like a sink, bathtub, or bucket of water. Rinse the t-shirts with cold water. Once the water runs clear, wring out the
excess water and put them through one wash and dry cycle.
The Making - Pressing Wearable Heat Transfers
Step 1: Prepare the clamshell heat press.
When using Supacolor transfers, you'll want to be sure to use a clamshell heat press so that you can adjust the pressure to a consistent setting. Home irons and handheld presses do not work.

Adjust the temperature on your clamshell heat press to 320 degrees Fahrenheit and the time to 12 -15 seconds. To set the pressure on a clamshell manually, lay the shirt on top of the platen and tighten the dial until the press won't close. Then loosen the dial gradually until the press closes.
Step 2: Prepare the t-shirt.
Remove any excess fibers with a lint roller.

Then, pre-press the blank for 5-8 seconds. This removes the moisture and ensures a wrinkle-free surface for applying the wearable heat transfer.
Step 3: Map out the placement of your design.
After pre-pressing, keep the shirt on the heat press. Use an acrylic t-shirt ruler or other heat-safe tool to map out where you'd like to place the design.

Make sure there aren't any seams on the application site so that the design will transfer evenly
Step 4: Place the heat transfer design on the blank.
Place the transfer on the shirt with the carrier facing up. The carrier should be between your heat transfer and the top plate of the heat press.
Close the clamshell press for 12 to 15 seconds.

When the time is up, open the clamshell and immediately (but slowly and carefully) remove the carrier from the transfer by pulling it away. Don't worry, it should peel off easily. Pulling the carrier in the direction away from you makes this step easier.
Step 6: 2 to 4 second post-press.
After you've removed the carrier sheet and the design is adhered to the shirt, place a piece of parchment paper over the design and press again for 2-4 seconds. This post-press ensures that the edges of the Supacolor wearable heat transfer are sealed.
Step 7: Let Cool & Repeat!
Continue to follow the same process of pressing your band's logo onto the shirt until all your shirts are decorated.

Once you get in a good groove and are confident in the process, turn up some of your favorite tunes and continue making your own band merch! If you think your fans would appreciate it, maybe add your signature somewhere with a permanent fabric marker.
Ready to start making?
Check out our collection of bleach dye projects!
See more