Create Discounts To Clear Out Old Inventory
How To Create Discounts & Clear Out Old Inventory
Learn how to calculate discounts for your product inventory that will make you a profit and get rid of your old inventory simultaneously. Plus, we've got some insider tips on discounts from a successful apparel brand owner.
We've partnered with our ambassador and successful small business owner, Allie Mitrovich of Allie Rose Co, to share tips & tricks on how to use discounts for your small business to get rid of inventory and make room for your next product launch.

Imagine you've launched a series of customized apparel and accessories for a specific season. When the end of the season arrives and you still have remaining inventory to sell. What do you do?

No matter how or why you ended up with extra inventory, there are a few things you can do to clear out your inventory while still making a profit.

We sat down with successful small business owner, Allie Mitrovich (of Allie Rose Co) to share her tips on using discounts to help clear out inventory.

Crunch Your Numbers (Calculating the bottom line)
Production Cost + Shipping Cost = Bottom Line
Before calculating a discount, you need to find your bottom line. If the only time you've heard the phrase "bottom line" is from watching Shark Tank, it's okay. It's just business-speak for the cost it takes for you to make and ship your product.

So why is the bottom line important to find before deciding on a discount? Because you don't want to offer a discount below what it cost to make the item. If you did that, you wouldn't be in business very long.

To calculate the bottom line, you'll need to answer a few math questions. Don't worry, it's nothing serious.

First, ask yourself how much does it cost to make each item? Don't sell yourself short! Make sure to pay yourself for the time spent making or processing each item. This is your production cost. Now, how much does it cost to ship each item? This is your shipping cost.

Add your production cost and shipping cost together. This is your bottom line. Keep that number handy for the next step, which is to decide on how much of a discount to offer your customers.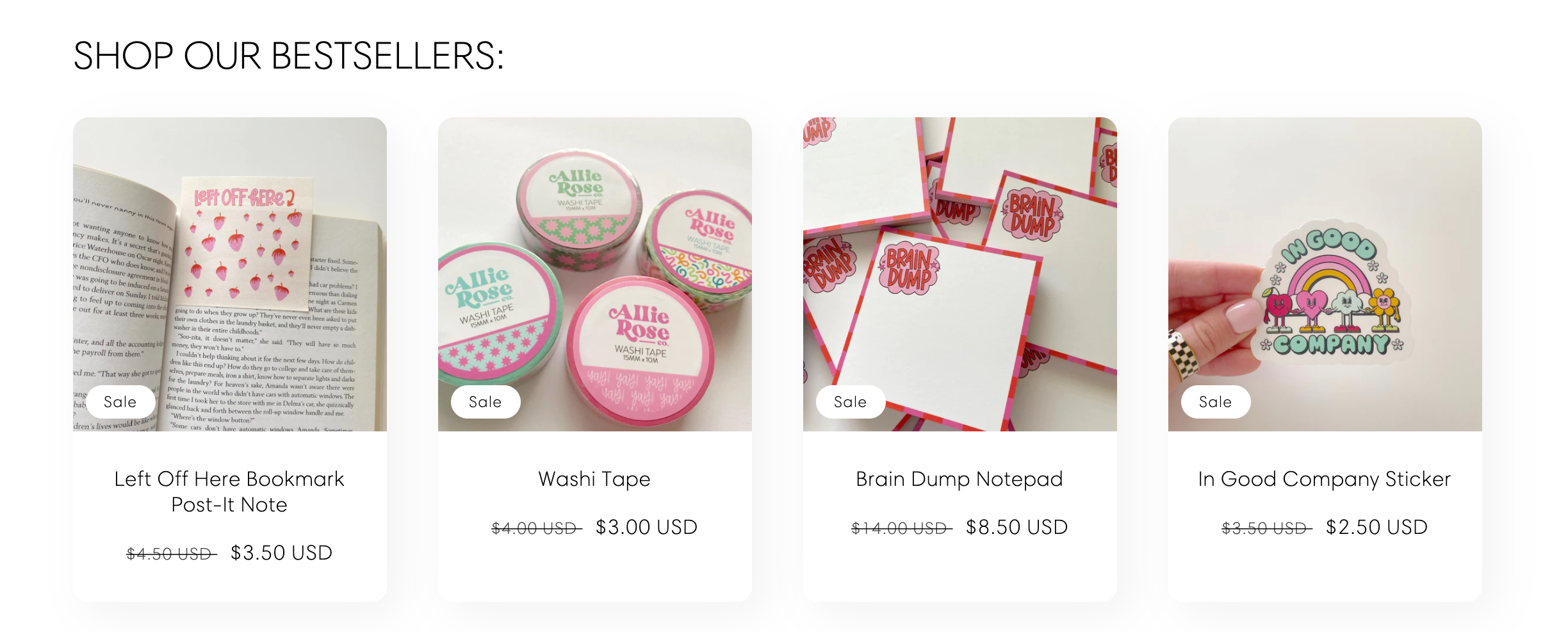 Decide On a Discount
Find Your Profit Margin
The discount should be an amount that is lower for the customer and lower than the original price, but still higher than your bottom line. This is where a "profit margin" comes in. The margin is any number between the bottom line and the original listing price.

At this point, it may be helpful to share an example. Say you have a bunch of Halloween-themed crewnecks that you want to clear out of your inventory.

Original Price: $34
Production Cost: $20
Shipping Cost: $4.00
Bottom Line: $24 ($20 + $4)
Profit Margin: $10 ($34 - $24)
In this example, you would need to make sure your discount doesn't reduce the price below the bottom line of $24.

Even if your profit margins are smaller than you anticipated, it is better to make some money than none at all. You might want to offer a discount if the season is winding down and you know those items won't sell anymore.



Tips From Allie (a real-life small business owner)
When should you ignore your profit margin on a single item?
Instead of looking at your bottom line and profit margins on a single item, take a step back. Consider how much profit you've already raked in for an entire product launch. If you find that you've already made back the money you initially put into the products for your launch, you can consider having a huge sale, regardless of the per product profit margin. If you've already made that money back, it might be best to clear out that old product that your customers clearly didn't love to make space for things they will love. In the end, you'll be happy and so will your customers. Everyone loves a good sale.



What kind of sales help get rid of old inventory?
Allie suggests running sales that let her connect with her customers. For example, as a "thank you for such a great launch" or "for all the love on a previous social post" she'll give customers 20% off with the code THANKYOU. When you find a way to connect with customers like this, they'll be more loyal to your brand.

For your birthday, you could also run a birthday sale that discounts products at a percentage of the age you'll be turning. Allie recently did this by offering 24% off for her 24th birthday. A sale like this lets your customers connect with you on a personal level. Plus, it's an opportunity to offer a flash sale that is only for a day. When Allie has done her birthday discount, she has seen an increase in sales during and even after the sale has ended.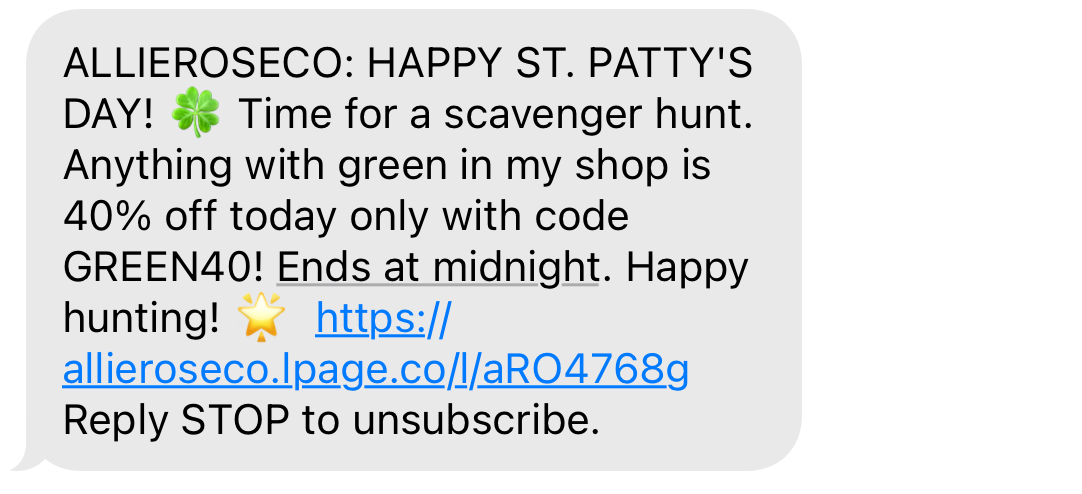 Do you have VIP subscribers? Reward them with a flash sale!
Do you have text subscribers? Maybe you have a list of your "Big Spenders" that you can email. If you need to clear out your old inventory, consider sending a select group of customers a personalized message with a discount. Allie has text subscribers, and will often have small sales exclusively for them. It pushes people to sign up for text subscriptions to get those same perks, and it gives them exclusivity and encourages them to order before the rest of the text subscribers so the product doesn't sell out. When she does this, she will also post on her Instagram story something like "hey text subscribers, be on the lookout for something exciting" or "if you aren't signed up for texts you should do that ASAP because a good discount will be sent out soon!"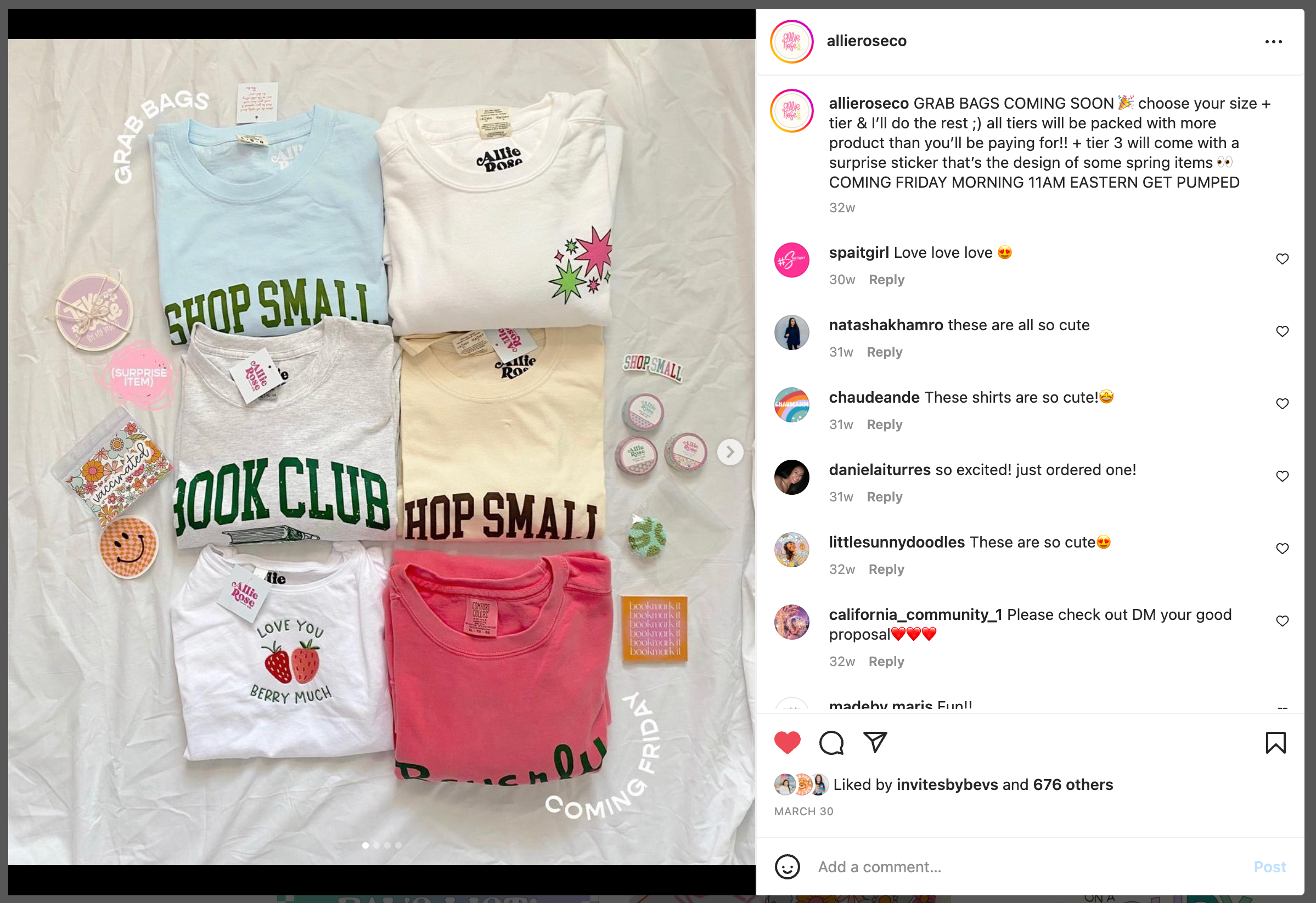 Drowning in old inventory? Try a "Grab Bag" Sale!
One of Allie's most profitable months came from her worst launch that she's ever had. How did she turn it around? Three words; GRAB BAG SALE. She had a huge launch that went very poorly. The same items were sitting gathering dust on her shelf for months. Until she made a new listing on her shop for "grab bags" with 3 different levels. The cheapest grab bag included 1 t-shirt and stickers. The middle-priced grab bag included 2 t-shirts and more accessories. Finally, the most expensive grab bag included a crewneck, t-shirt, and more accessories. It was a fun way to get products off the shelves, and it got customers excited to get their order in the mail. Although her customers have been seeing those same old products on their feeds forever without purchasing, they wanted to purchase the grab bag for the mystery aspect of it, and ended up loving the products even though they weren't initially drawn to them.

This ended up being one of the most successful launches of a product Allie has ever had, and it was with the exact same products that had been sitting around for months. It was also a nice way of having a sale without saying "hey I'm having a sale on these products for the 15th time because you all didn't love them enough to buy them at full price."


We hope this article was helpful for you. Whether you're a new small business owner or you need some fresh ideas, there are many ways to offer discounts and clear out old inventory to make way for your next big product launch. Happy discounting!