How To Create Clothing Mockups In Canva
How To Create Clothing Mockups In Canva
Learn how to create free clothing mockups for your apparel brand in Canva. Get free downloadable PNG files of the Bella+Canvas 3001 & 3001CVC shirts in every color.
Learn To Create Canva Clothing Mockups
In this video, Jennifer Sanderson (one of our favorite screen-printing educators) shows us how to create clothing mockups for blank t-shirts. She often uses this technique when planning her screen-printing projects, but there are many reasons to learn this skill. You may want to learn to mockup t-shirt designs in Canva if you're:
Starting a t-shirt business
Planning a product launch
Preparing for an apparel decoration project
Trying to reduce inventory in-stock
Selling custom apparel and accessories
Yes, Press Hall sells blank apparel and accessories at wholesale prices for ALL makers. And unlike other wholesale apparel companies, we don't want you to have to pre-order all your blank t-shirts before orders even start to come in. We want your making experience to flow nicely so you can focus on the fun parts of being an apparel decorator instead of the headache of managing a large inventory.


Get Free Bella+Canvas PNGs

Click the button above to access and download free isolated PNG files of our Bella+Canvas BC3001 and BC3001CVC shirts in every color.


How To Create Canva Clothing Mockups In 5 Steps.
Step 1: Download the free Bella+Canvas t-shirt files.
Once you've downloaded the free Bella+Canvas t-shirt files, you'll see a zip file in your browser's downloads folder. Just unzip the file and you'll see two folders. One for the BC3001 shirt and one for the BC3001CVC shirt. Inside each of these folders are isolated PNG files for the respective Bella+Canvas t-shirts in every color.

Step 2: Create a free account on Canva.com.
If you don't already have one, create a free account Canva.com. Once you're logged into an account, click the "Create a design" button and then select the design size you prefer. Here we are hoping to create a blank t-shirt mockup for Instagram so we chose the 1080 x 1080 pixel size. This size is also great for most other social media posts and even your website listings!
There are other programs and websites that let you create clothing mockups, like VistaCreate, Stencil, or PicMonkey. You should explore all the options and choose the tool that you like most and that works for your budget.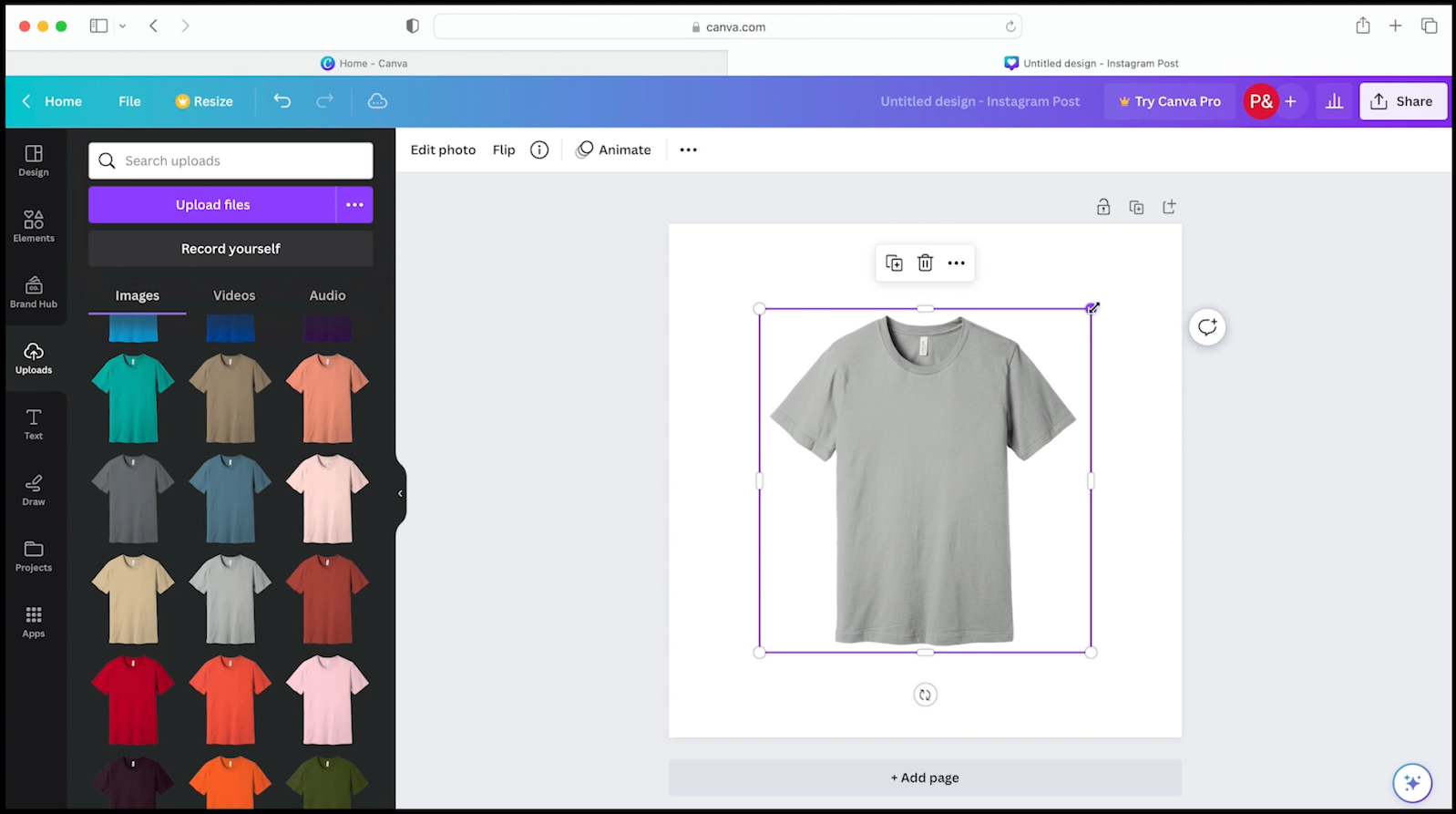 Step 3: Upload the Bella+Canvas PNGs and your design files to Canva.
Prepare and upload your design files to Canva along with the free Bella+Canvas t-shirt files. Then drop in any color Bella+Canvas PNG to the Canva workspace. Once the isolated blank t-shirt is the size you want, add your design over the shirt.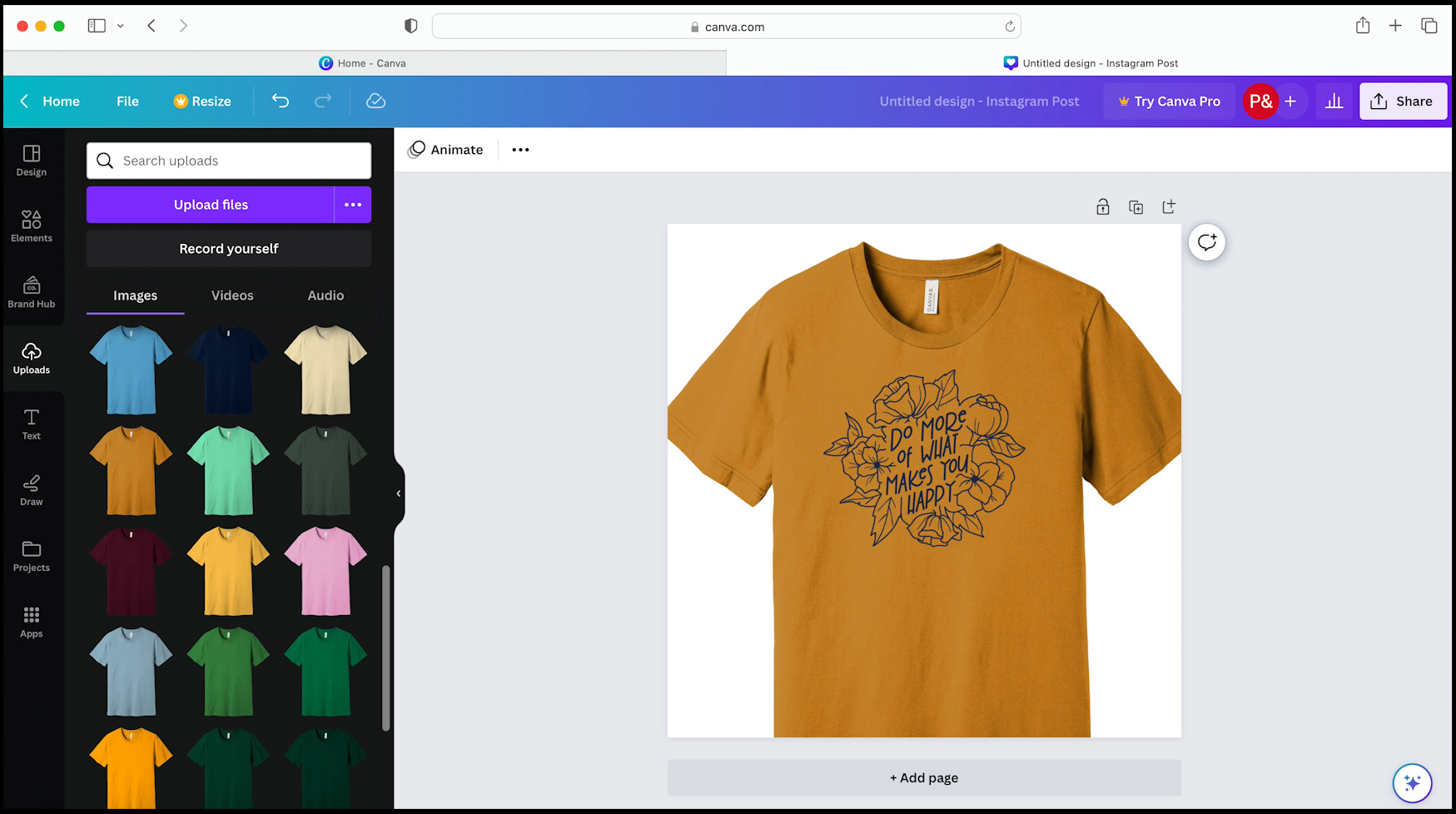 Play around with the color options in Canva and once you're happy with a color combination, it's time to order a few blanks for testing from presshall.com. We never suggest putting a product in your shop if you haven't tested your decoration technique with the specific blank first. So if you haven't tested your decoration technique with the BC3001 shirt then you should consider ordering and testing a few to make sure everything looks great in the end.

Step 5: Finalize and post your clothing
Once you're happy with your final design, you can use this clothing mockup on social media or even product listings on your shop! Use your clothing mockups in social posts to get your followers excited over your next creation. Soon, the orders will start flowing in and you can begin your next project!

The Best-All-Around Unisex Shirt.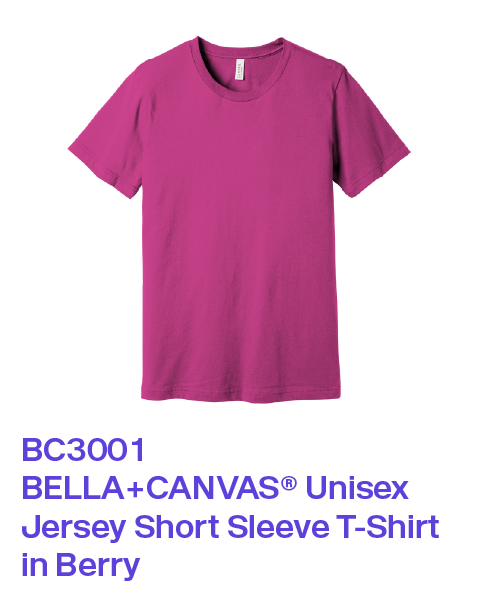 The Bella+Canvas 3001 and 3001CVC are great blank t-shirts for all kinds of apparel decorators. These shirts come in over 50 color options each and are super affordable.
The Bella+Canvas brand offers really soft and easy-to-decorate blank t-shirts, and these are two of the best and most reliable blank unisex shirts. With so many color options, these two tees are sure to match your next project color way.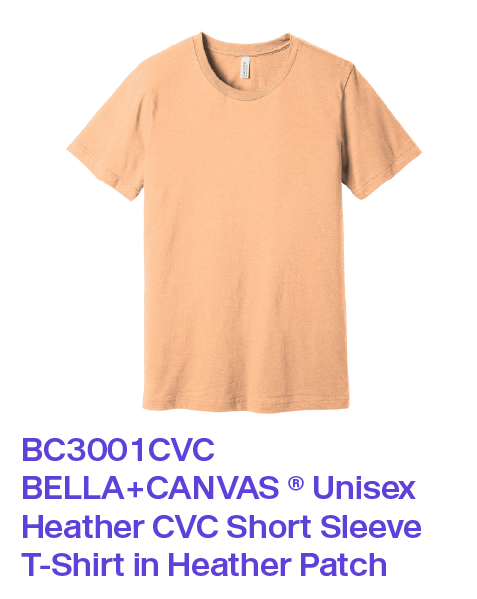 Whether you're trying to reduce the number of t-shirts to manage in your inventory or you're selling made-to-order custom apparel and accessories online, Press Hall is here to help you find the perfect blank.
Call us at (855) 919-2467 or email us at help@presshall.com