Small Business Holiday Order Prep
Preparing Your Small Business For Holiday Orders
Follow along with Megan, a student and small business owner, while she prepares her inventory for the busy holiday season.
As both a student and small business owner, getting my holiday products made early is key since there is such limited time! I also like to have time to promote my new arrivals at least a week or two before they launch.

Before they are officially live on my site, there is a lot I take into consideration time wise. First, I like to plan out what designs I want to create. Then I order the blank t-shirts & transfers. Next, when all my supplies arrive, I create the shirts. When they are finished, I give myself a few days to take product pictures and additional social media content. This often includes planning out a specific photoshoot. Once photos are done, promotion for at least a week begins, which is when I will put countdowns on my Instagram getting my followers ready for what is up and coming. My launch typically occurs at least 3 weeks before the holiday so that orders will be shipped in time (longer for Christmas since transit times can be slower).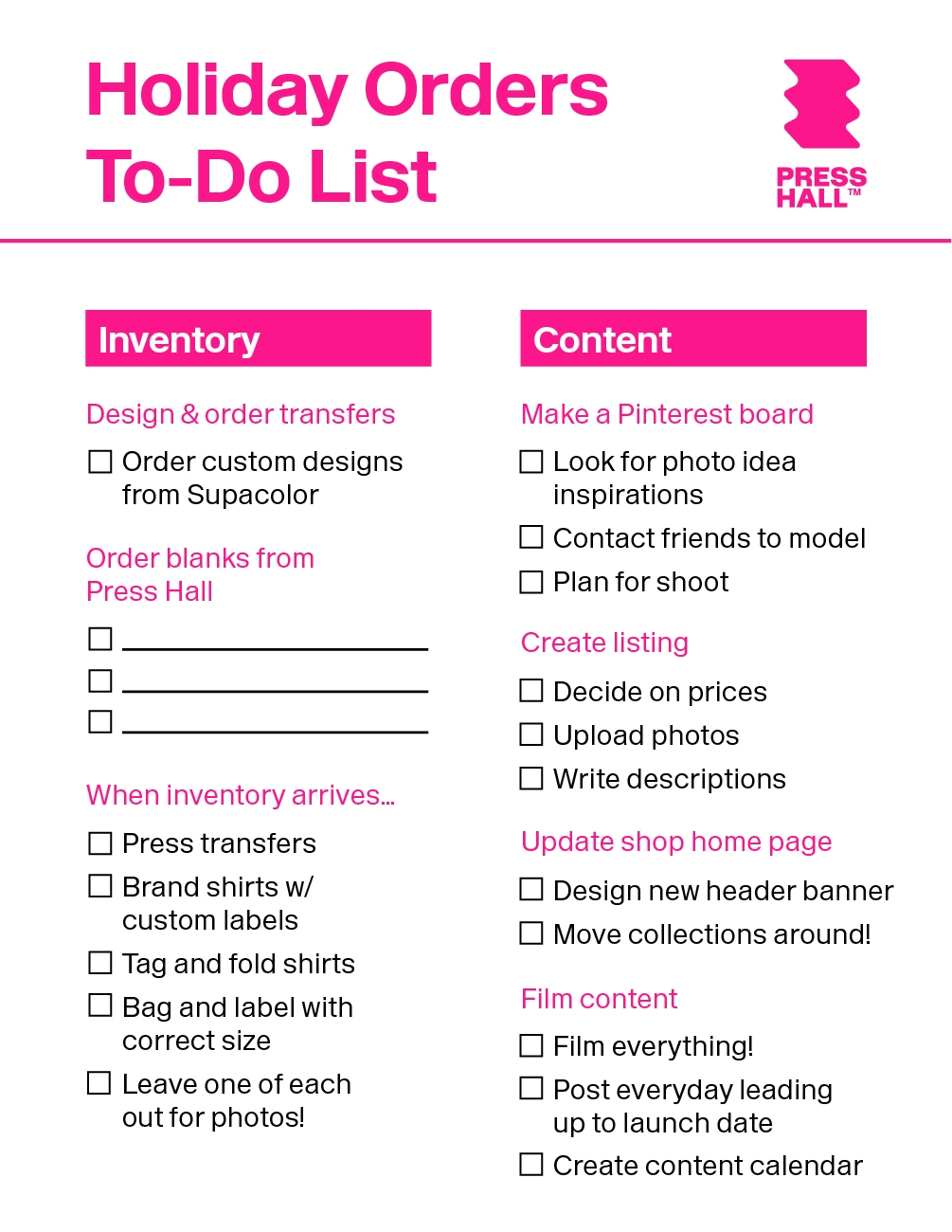 Things to do:
Draft new designs
Order transfers / print designs
Order product inventory (blanks from Press Hall)
Press designs onto shirts and add tags
Capture content
Plan promotional week
Update listings
Promo week
Launch
Timeline:
Want more details on each step of prepping for the holidays? I've got you!


Design - 5-6 weeks before Launch Day
When designing, I use Procreate, Canva, or Adobe Illustrator. I also like to order screen print transfers from other small businesses or Supacolor. This step takes the most time because I like to perfect the final proofs.

Order Inventory - 4 weeks before Launch Day
This year I'm ordering all my blank apparel from Press Hall. In addition to the blanks, I'm ordering all my transfers (either from Supacolor or other small businesses that make heat transfers). I also make sure that I have all the supplies I need for packing and shipping. This includes; clothing tags, iron on tags, thank you cards, poly mailers, stickers, paper and labels.

Pressing Design and Tagging - 4 weeks before Launch Day
Heat pressing the shirts can be time consuming. I usually dedicate one full day (12-15 hours) to pressing shirts. During this busy day I can usually pump out at least 150 shirts depending on the complexity of the screen prints. Once I finish pressing the t-shirts, I iron on my logo inside the shirt along the collar and add paper tags with washing instructions.

Also included in this step is folding the t-shirts and putting them in plastic bags. When shopping for blank t-shirts on Press Hall, you can filter the results to only show products with easily removable tags, which makes adding your own brand's tag MUCH easier.



Marketing Timeline
Capture Content / Photoshoot - 3 weeks before Launch Day
For pictures I use my photo booth for flat lay photos. I often recruit my friends to model for me and we will do shoots. These shoots require some planning and I get most of my picture inspiration from Pinterest. On top of gathering photo content, I also take videos for Reels and TikToks.

Update Listings - 3 weeks before Launch Day
I go into my Shopify and create listings, add them to a specific collection, and count inventory. I will schedule the listing to go live at the time of my launch.

Promotion Week - 2 weeks prior to Launch Day
After the photoshoot, I edit all my pictures and plan my posts for the next week. I give sneak peeks on my Instagram stories and create countdowns for launch day.

Launch Day - 30 days before the holiday
When promotion week is over and it's launch day, everything on my site goes live and (hopefully) orders will start rolling in. Since everything is already made and in bags, I can just package and ship!

Having everything pre-made saves me a lot of time since I am also in school. I wouldn't be able to do it without companies like Press Hall and Supacolor.


*For Christmas, I use the same technique but I give myself a longer grace period for shipping out orders since USPS is very busy during the holidays.