Get To Know Port & Company
Port & Company is our go-to blank apparel brand for budget basics. They offer almost every style for an affordable price without skimping on quality.
Port & Company has a lot to offer when it comes to affordable blank apparel and accessories. They make budget-friendly, everyday blank apparel for men, women and kids. At Press Hall, we carry nearly hundreds of Port & Company styles in categories like t-shirts, polos, sweatshirts, bottoms, and accessories. The best part? You don't need a business license to get super low, wholesale prices. And no, you don't need to buy 500 shirts at a time. You could just order 1 to test with your decoration technique and come back for more once you know it's what you need.
Port & Company is a great brand of blank apparel for those just starting to sell their customized creations. Whether you're decorating them with embroidery, custom heat transfers, HTV, screen-printing, DTG, or sublimation, you'll find an affordable option to get you started.
If you ever need assistance, advice, or extra information on one of our products, you can always reach out to our customer support team. Even if you haven't purchased from Press Hall yet, our team is here and eager to help you find the perfect blank for your next product launch or home project. Call us at (855) 919-2467 or email us at help@presshall.com
Port & Company T-Shirts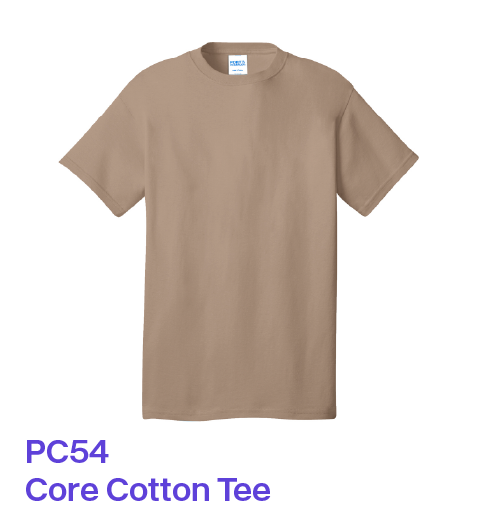 Of all the Port & Company t-shirts available at Press Hall, the Core Cotton T-Shirt ranks among the highest. Known as the "PC54" for short, the 100% cotton t-shirt is ready to decorate with a variety of decoration techniques. It's also super affordable. For just a few bucks, you can decorate the PC54 and turn a higher profit when you sell it. You'll be surprised by the quality of this midweight t-shirt.
If you prefer a more lightweight option, you can always choose the Port & Company Fan Favorite T-Shirt, which is almost identical to the PC54, just an ounce lighter. Maybe you prefer a heavier, thicker t-shirt. In this case, we suggest you order the PC61, which is short for the "Port & Company Essential Tee". Ringing in at 6.1 ounces, the PC61 is a super affordable heavyweight tee compatible with a variety of decoration techniques.
Port & Company makes shirts that aren't just your basic tees too. The PC54 actually comes in many variations. These different variations all share the same 5.4-ounce 100% cotton features, but come in different cuts or styles for men, women, and kids. We like to call this the extended family of the PC54. For example, the PC54V is a unisex v-neck style, while the PC54P is a unisex pocket tee. Explore the rest of the PC54 family of t-shirts at Press Hall.
Port & Company Sweatshirts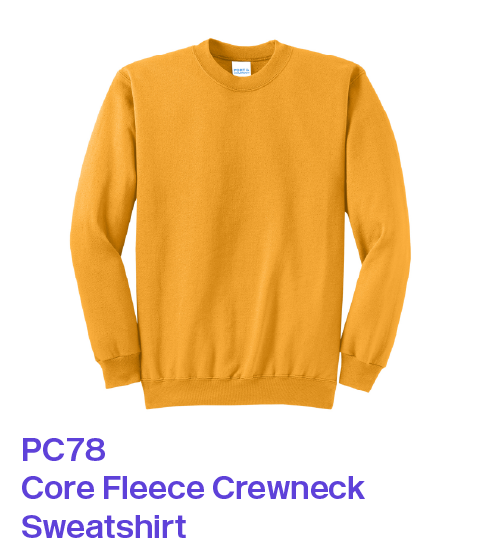 Port & Company sweatshirts are affordable and incredibly comfortable. How soft, you ask? Well, the Port & Company Core Fleece Crewneck (and other PC78 styles) are made with air jet yarn. All it takes is one touch of the fuzzy fabric within, for you to fall for the PC78. It's 7.8 ounces of 50% cotton and 50% polyester fleece. A snuggly bundle of joy, ready to be decorated by you.
Need a heavier weight Port & Company sweatshirt? We've got you. Check out the PC90. This 9-ounce crewneck is made from the same soft blend of cotton and polyester fleece, just a tad heavier.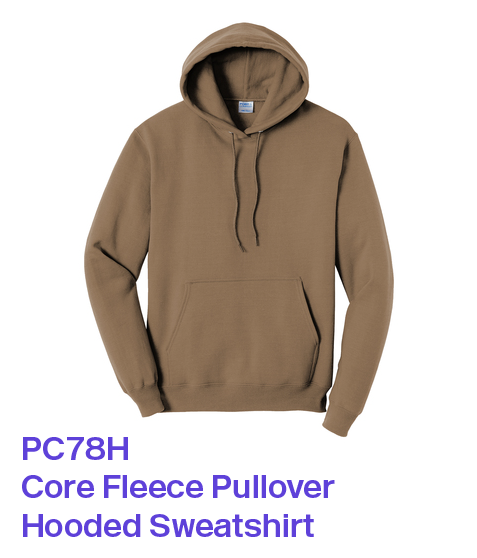 If you like the 7.8 ounce weight, make sure you check out the other PC78 styles like the PC78H which is the hoodie style. Better yet, it's probably a good idea to familiarize yourself with the entire PC78 family of blanks. All are 7.8 ounces of that super soft cotton/poly fleece, just different cuts and styles in unisex, tall, women's, and, youth.
Port & Company's family of PC78 blanks doesn't stop at sweatshirts. Create a matching set by pairing any Port & Company sweatshirt with some Port & Company Core Fleece Sweatpants.
Port & Company Polos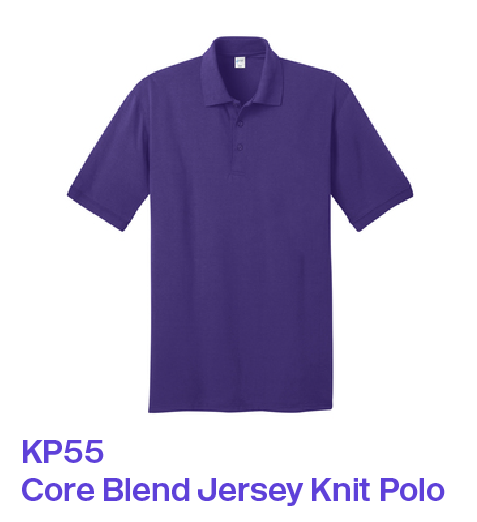 Finding yourself in need of budget-friendly wholesale polos? The Port & Company Core Blend Jersey Knit Polo (aka the "KP55") is a great blank polo to decorate or wear as-is. The KP55 is considered a medium-weight polo at 5.5 ounces and comes in so many bright and fun color options.
Never decorated a blank polo before? The KP55 is a great option to start with. You could make custom golf gear or outfit the whole country club! There's also a pocketed version of the KP55. It's called the KP55P, and yes, the "P" stands for pockets. Everyone loves pockets.
If you want to embroider a custom logo on the chest of a blank polo, the Port & Company Core Blend Jersey Knit Polo is sturdy enough to cooperate with a properly digitized embroidery design. If you find your design looks better on a thicker polo, check out the KP155 (Port & Company Core Blend Pique Polo) which is about an ounce heavier than the KP55.
Port & Company also makes blank polos in tall, ladies, and kids sizes.
Port & Company Blank Hats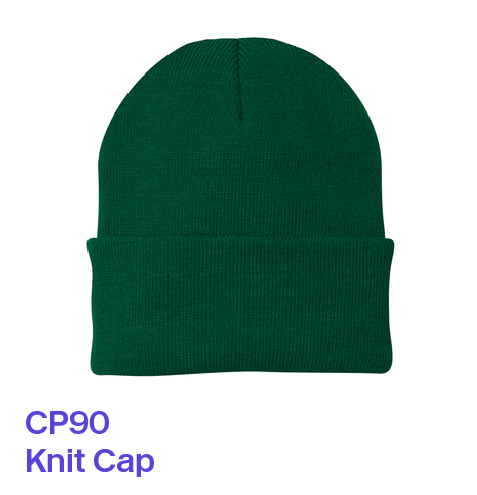 Now let's talk about wholesale hats and other blank accessories that Port & Company offers. Are you gearing up to make some cool winter headwear? Maybe you have some freestanding embroidered patches waiting to be matched up with the perfect blank hat.

Of all the Port & Company hats, we suggest the CP90, aka the "Port & Company Knit Cap", which is a super affordable (and warm) beanie with very shallow ribbing that is great for decorating with patches or if you have an embroidery machine, just stitch right onto the beanie itself.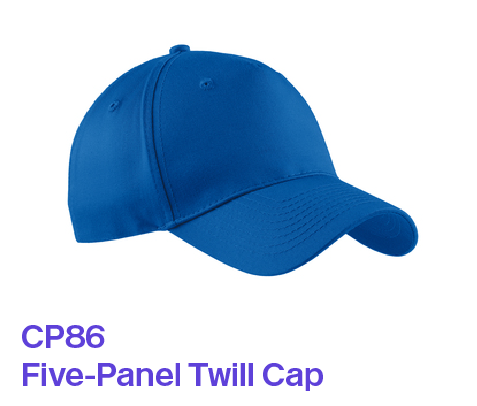 But wait, what if you're planning your spring or summer product launch?! Don't worry, Press Hall has plenty of affordable Port & Company hats for both cold and warm climates. If you're new to decorating structured blank hats like the Port & Company Five-Panel Twill Cap (aka the "CP86"), we find that decorators often prefer to add their design to the front panel above the brim. Which is just one more reason we love five-panel hats like the CP86. This 100% cotton twill hat has a seam-free front panel, which means you can add HTV, a custom heat transfer or embroidery design without having to navigate around a bulky seam in the center. Yay for easy decorating!
Port & Company also has other blank accessories available at Press Hall. Order wholesale bags, blankets or this snuggly scarf for your next project.

The Press Hall customer support team and our in-house makers are here to help you find the right blank for your next product launch or project. We're more than the average supplier. We're here to support all your making needs! Call us at (855) 919-2467 or email us at help@presshall.com