Get To Know District Clothing Brand
Get To Know District Clothing
Looking for affordable basics? District Clothing has tons of styles for any age. Explore the 5 different District collections and discover your new favorite blank apparel brand.
District Clothing is one of the many awesome blank apparel brands we carry at Press Hall. They make a plethora of fashionable blank t-shirts, sweatshirts, bottoms, outerwear, and accessories that are made for decorating and appeal to any age group. In this article, you'll meet 5 of the main District t-shirts (and their extended family of blanks).
Since 2012, the District Clothing brand has been offering fashion-forward blank apparel and accessories to decorators of all kinds. Savvy screen-printers, heat-pressing heroes, and expert embroiderers have all decorated District blanks before.
The District Clothing team is made up of a group of fashion-conscious 17 to 30-year-olds who prioritize comfort, appreciate value, and expect quality. And they've seriously mastered their t-shirt offerings. Once you find your favorite District shirt, you'll never look back. Plus, When compared to other blank apparel brands, District Clothing offers lots of vibrant color options as well as many different styles, cuts, and fits.

Sustainable Blanks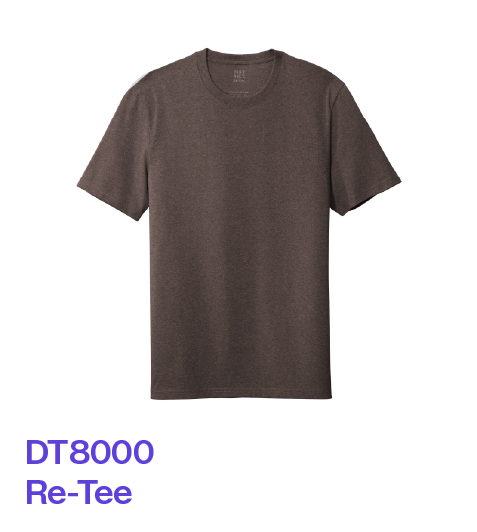 Looking for sustainable blanks? District Clothing makes them! If you see "Re" on a District blank, then you're looking at one of their sustainably made blanks. Basically, "Re" is short for "recycled". For example, the District Re-Tee is made of 100% recycled fabric, and no, they aren't re-dyed. The Re Tee and other recycled District blanks are a blend of recycled cotton scraps (that otherwise would end up in a landfill) and recycled polyester (aka rPET, or recycled plastics).
"But what about re-dying?", you ask. Re-dying these items is unnecessary, which saves tons of water and avoids the use of dyes. The Re Tee and other recycled District blanks get their color from the color of those recycled cotton scraps. Yay for conscious consumption and creative thinking!
Browse all District's sustainable blanks like The Re-Beanie and The Re-Crewneck at Press Hall.
We love sharing expert insight to help you choose the right blanks. Our team of in-house makers are here to help! Call us at (855) 919-2467 or email us at help@presshall.com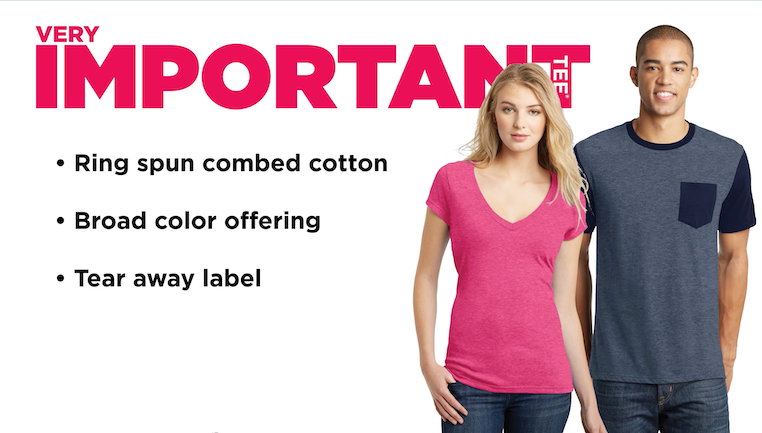 Very Important Tee (V.I.T)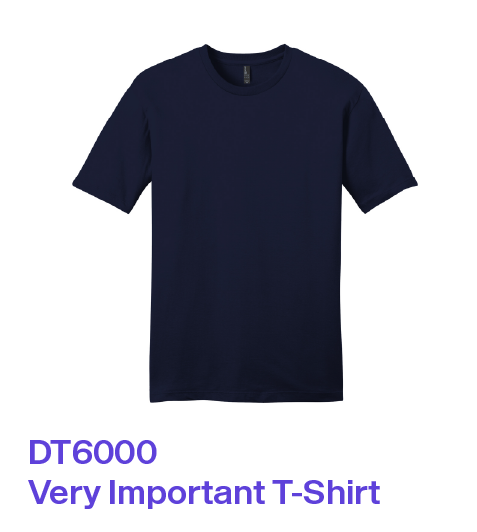 The Very Important Tee (DT6000 for short) is 4.3 ounces of 100% ring spun combed cotton, so you know it's soft. With a slightly slimmer bodice and shorter sleeves, this t-shirt is great for those who gravitate toward trimmer, slim cut t-shirts. Plus, it comes in so many fun and exciting colors!
Keep in mind, if you choose any of the heather color options of the DT6000 Very Important Tee, the fabric blend is 50% ring spun combed cotton and 50% polyester. So if you decorate these colors with a heat press or other heating element, special care needs to be taken during the process. No one likes a burned t-shirt. And when synthetic fibers like polyester are involved, you need to be careful not to burn the blank.
Luckily, Press Hall offers wholesale prices on blanks without a minimum order quantity, so you don't get stuck with a big order of bulk t-shirts that don't work with your decoration technique. Just order a few and test out your process and give us a call if you need support from our fabulous team of in-house makers.
While the DT6000 Very Important Tee is the highlight of the V.I.T family, check out the other District V.I.T styles too.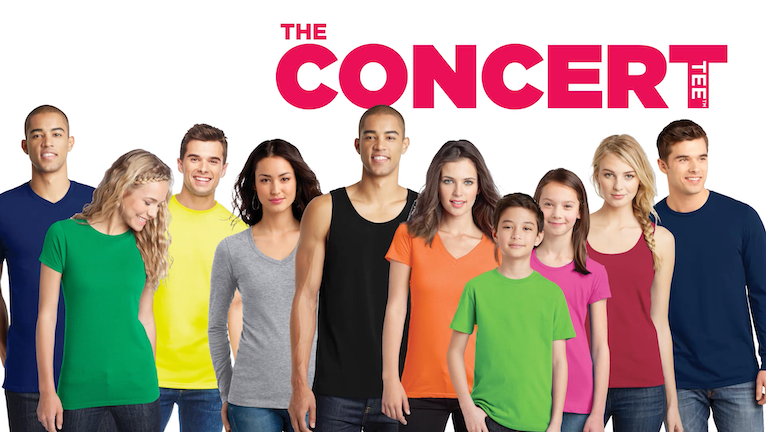 The Concert Tee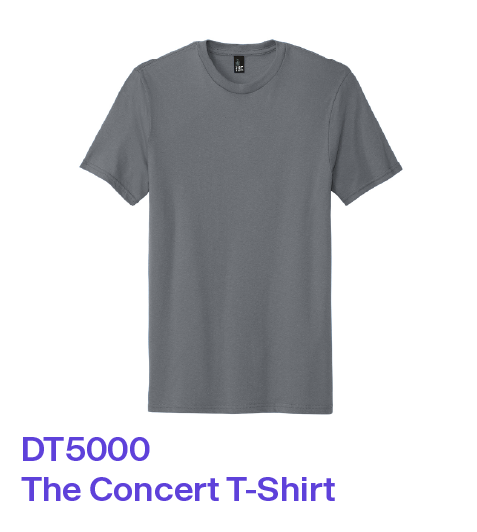 District Clothing's DT5000 offers the best value in a fashion t-shirt. More commonly referred to as "The Concert Tee" this blank t-shirt is very affordable yet, doesn't skimp out on quality.
The Concert Tee is 4.5 ounces of 100% soft spun cotton. Although some of the color options (heathers and neons) are a blend of soft spun cotton and polyester, so be sure to keep an eye on the heating elements during your decoration process. Synthetic fibers can't stand high heat. To be safe, we always suggest ordering one or two blanks to test your decoration process.
Another great thing about this District t-shirt is the tear-away tag. The tag is built to be removed quickly and easily with a slightly firm grip and a swoop of the forearm. And it doesn't leave a hole or imperfection when removed. Isn't there just something so pleasing about ripping off a tag? We think so.
Many decorators enjoy blanks with tear-away tags because it allows them to add their own touch of branding to the product. Just don't start ripping off tags without noting what size they are or you'll end up in a guessing game that no one wants to be in.
District Clothing's extended Concert family includes other styles like hoodies, a tank top, a v-neck, and scoop neck so everyone can rock out in style. Order your District blanks from Press Hall and get started on your next project in no time.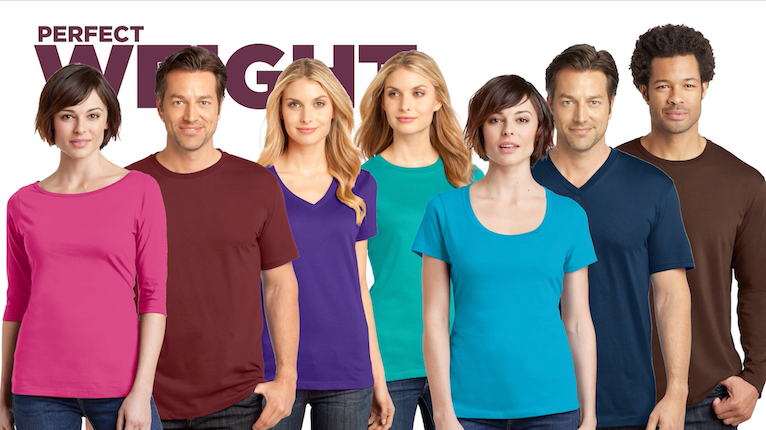 Perfect Weight Tee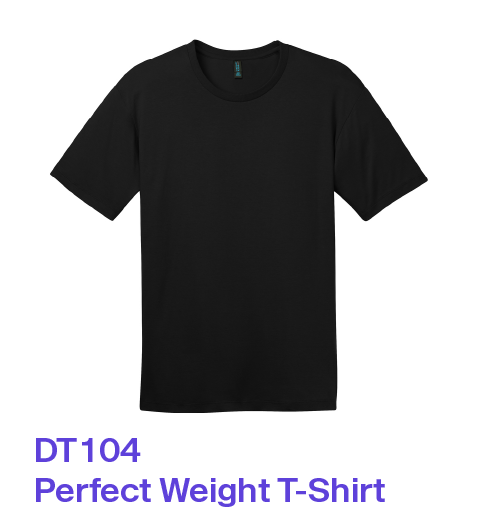 The Perfect Weight Tee (DT104) is the longest running fashion t-shirt from the District Clothing brand. Similar to the V.I.T, this blank t-shirt is 4.3 ounces of 100% ring spun combed cotton. However, the key difference is that the Perfect Weight Tee is spun with a thinner yarn, which results in a smoother and silky feel.
The rest of the District Perfect Weight family includes crewneck, v-neck, scoop neck, long sleeve, and ¾ sleeve styles. All of which you can find at Press Hall.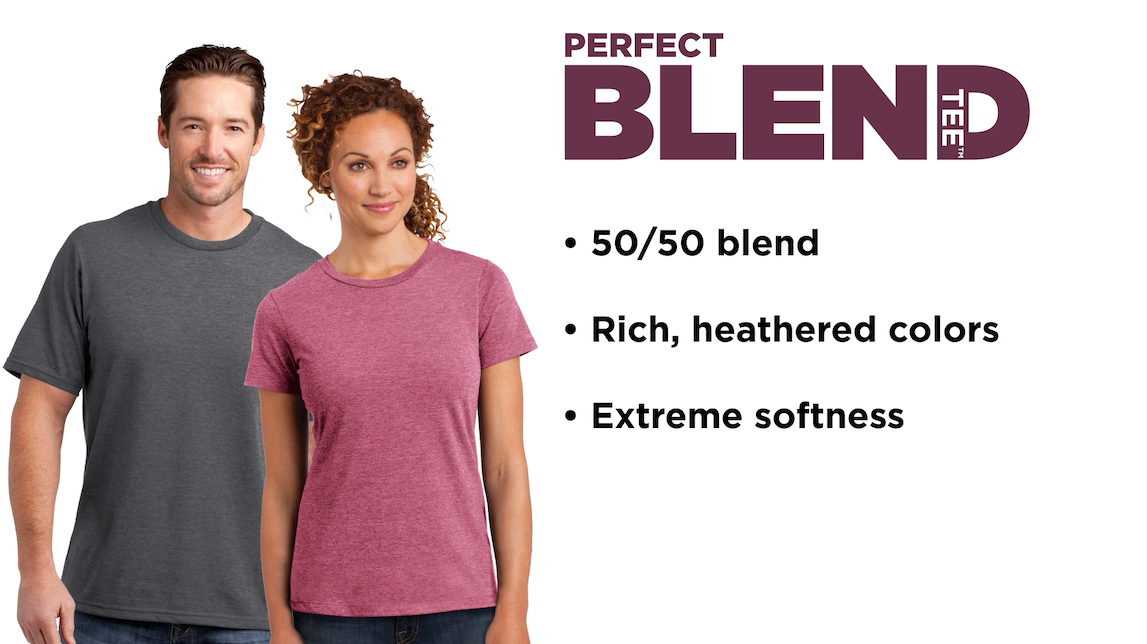 The Perfect Blend Tee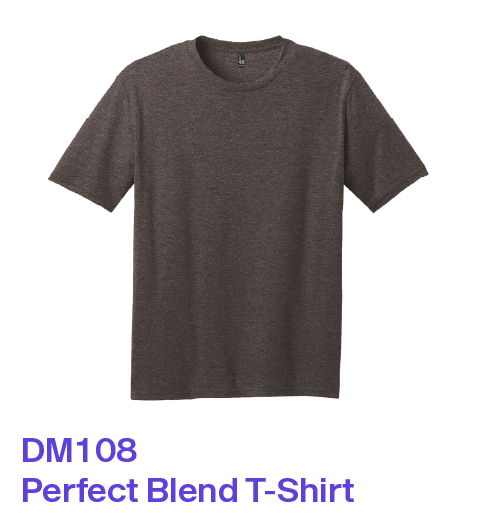 What do you get when you mix 50% ring spun combed cotton with 50% polyester? You get The Perfect Blend Tee, which is also called "the DM108". This 4.3-ounce District t-shirt is a bundle of softness. There are so many other little things that make this blank t-shirt the perfect blend. It's wrinkle-resistant, shrink-resistant, and colorfast, so its color wont bleed onto other items when laundering.
This District blank is especially popular with those like heather color options and those who value super soft t-shirts.
Explore the rest of the Perfect Blend family at Press Hall. We've got the unisex version as well as women's v-neck and scoop neck styles; All with the same, silky-smooth blend of fibers.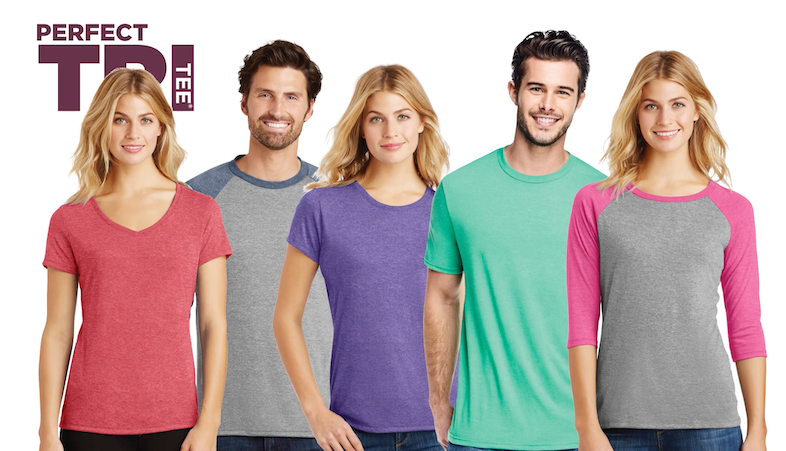 Perfect Tri Tee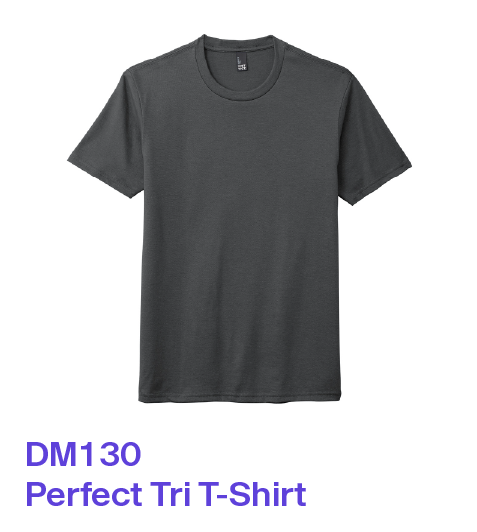 The Perfect Tri Tee (DM130 for short) rings in at a bit heavier of a weight than the other District Clothing t-shirts at 4.5 ounces. Made with a blend of 50% ring spun combed cotton, and a varying percent of polyester and rayon, the DM130 gives off a fashionable heathered look. This is super popular with younger customers.
The Perfect Tri family features v-neck and long sleeve styles for both men and women.
Due to the heat sensitivity of tri-blend fabrics, special care must be taken throughout any decoration process that involves heat. So if you plan to decorate the Perfect Tri Tee with a heat press or other heating element, we suggest buying one or two extra for testing your specific decoration process. If you need a second opinion or advice, the Press Hall team is here to help.

While District Clothing has a plethora of fashion-forward blank t-shirt options, they also make other types of decoration-ready blanks. Check out all of the District blanks that we carry at Press Hall.
As always the Press Hall team of in-house makers are here to help you find the right blank for your next project. We're more than your average supplier. We're here to support all your making needs! Call us at (855) 919-2467 or email us at help@presshall.com