Get To Know Champion
Get To Know Champion
Explore the three main types of Champion fabric blends, the history behind them, and choose your favorite.
The Champion clothing brand is one of the most well-known apparel brands in the world. At Press Hall, we sell wholesale Champion hoodies, crewnecks, joggers, and t-shirts. And yes, that includes the cute cropped Champion hoodie and the short sleeved Champion hoodie.
To help you differentiate our wholesale Champion products, you'll notice three types of Champion blends, like the:
Reverse Weave – Which is a 12-ounce heavyweight blend originally invented in the 1930s to keep sweatshirts from shrinking and pilling.
Powerblend – Which refers to our 9-ounce medium weight Champion sweatshirts that are just as durable as the Reverse Weave products, but with less weight.
Heritage Blend – Which generally refers to the medium and heavyweight Champion t-shirts that make for great base layers.
As a classic streetwear brand, when you upcycle, customize, or decorate a Champion hoodie, it becomes even more valuable. There's just something so satisfying and luxurious about owning and wearing Champion. And everything is better when it's customized.


Did Champion invent the hoodie, mesh jerseys, and sports bra?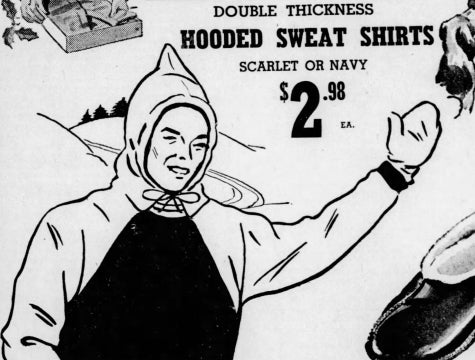 The short answer is yes. But the history around Champion's invention of the hoodie, mesh jerseys, and the sports bra is full of surprising, juicy details. After Champion's first big deal outfitting students at a military academy in the 1920s, they focused on listening to athlete insights which helped develop new athletic wear products that would allow athletes to perform at their best, like the hoodie. Keep in mind, this is all around the 1930s, and the NFL had just been established nearly a decade earlier.
Flash forward to the late 1960s and Champion created a helpful type of jersey made from nylon mesh to help athletes stay cool during a game or practice. From football to basketball, lacrosse, and other sports, the mesh jersey's popularity spread like wildfire.

Alongside the growth of American Football and the NFL, Champion invented the "hooded sweatshirt" for athletes to wear as a warm-up outfit. Later nicknamed a "hoodie", the hooded sweatshirt has clearly gained popularity outside of athletic wear.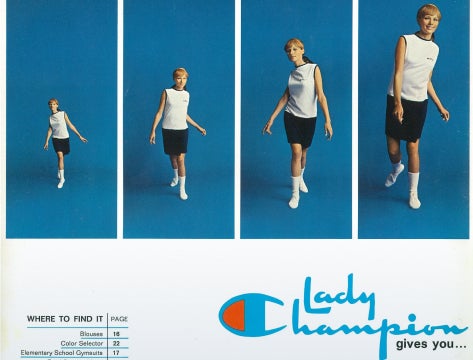 Shortly after the mesh jersey, Champion showed their support for women athletes by inventing the first sports bra. Don't just take our word for it, check out Champion's history at champion.com/heritage
Today, Champion hoodies are popular among more than just athletes. If you own your own clothing brand, or decorate clothes to resell online, what better way to impress your customers than with Champion blanks, decorated by you. You can, you should, and we're totally here for it!
Shop wholesale Champion hoodies, crewnecks, joggers, and t-shirts at presshall.com.
No minimum order quantity. No business license needed.


The Reverse Weave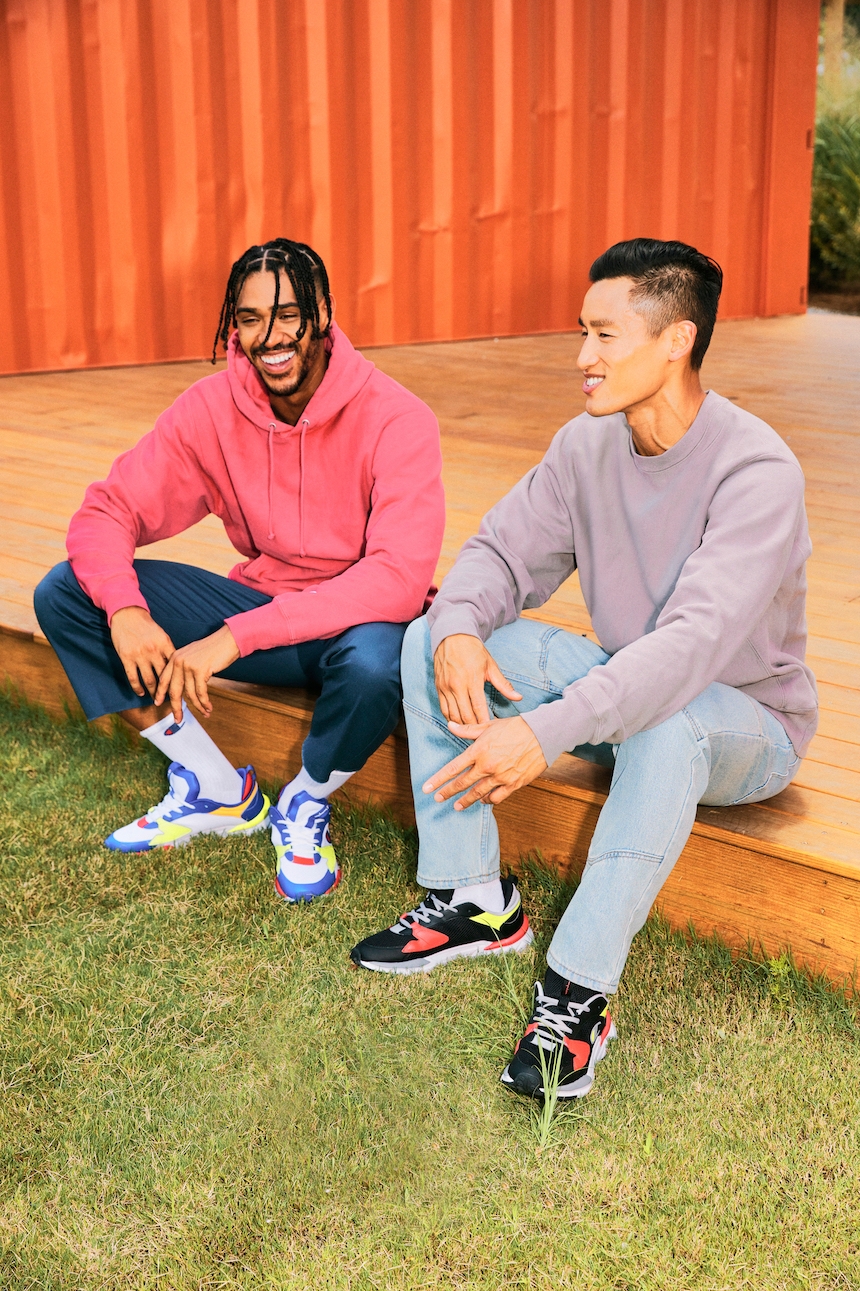 In the late 1930s Champion listened to the cries for help from coaches who were tired of their athletic wear shrinking in the laundry. Champion responded by creating their first Reverse Weave athletic shirts, which are strategically constructed to be shrink-resistant. By turning the fabric 90 degrees and cutting across the grain, the Reverse Weave Champion products are built to avoid shrinking. This technique was patented in 1938 as "The Reverse Weave Athletic Shirts" and it's a technique they still use today to make blank sweatshirts like the Reverse Weave Garment-Dyed Hoodie and the Reverse Weave Crewneck.
Both these Champion blanks are considered heavyweight sweatshirts at 12 ounces and are made with 82% cotton and 18% polyester fleece.
Let's talk about decoration. Yes, a Champion hoodie is great on its own, but what about a screen-printed school logo on the front? Or a Champion hoodie with your artwork splattered all over it? We can't think of a better way to show school spirit or share your artwork with the world. If you or someone you know has a DTG printer, the Reverse Weave Garment-Dyed Hoodie and the Reverse Weave Crewneck are even great for DTG printing!


The Powerblend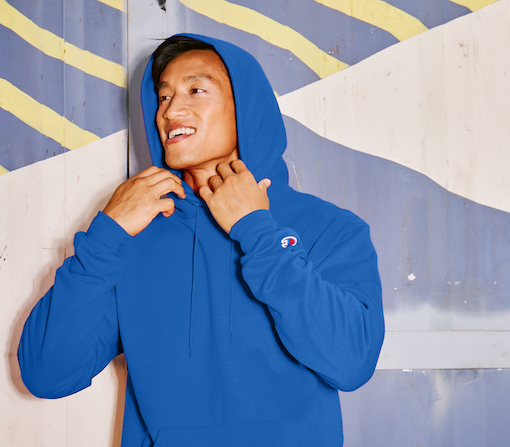 Maybe you prefer a midweight hoodie or crewneck. You're in luck, because Champion's Powerblend material is much lighter in comparison to Champion's Reverse Weave. While the Champion Powerblend still resists shrinking, it only weighs 9 ounces, making it less heavy and just as warm and durable as the Reverse Weave.
Don't worry, we carry a variety of Champion Powerblend sweatshirts, like the crewneck, zipper hoodie, and pullover hoodie.
With the official Champion logo on the sleeve, these wholesale Champion sweatshirts are perfect for outfitting a team of any kind.


The Heritage Blend
At Press Hall, we carry a heavyweight short sleeve Champion t-shirt and midweight Champion shirts in both short sleeve and long sleeve. These Champion shirts make for a great base layer whether you're screen-printing blank t-shirts for your streetwear-inspired fashion brand, or just need some great blank Champion shirts for your sports team.
Shop wholesale Champion t-shirts at Press Hall