Get To Know Allmade
Get To Know Allmade
Discover your new favorite blank apparel brand: Allmade. Their blanks are overwhelmingly soft, sustainable, and affordable. It's the best of 3 worlds!
In this article we'll introduce you to the Allmade brand and the categories of products they offer like:
Tri-blend sustainable t-shirts
100% organic cotton t-shirts and sweatshirts
50/50 blend t-shirts
That's not all! Skip to the bottom of this article to read about the Allmade's positive environmental impact. Or go ahead and browse Allmade on Press Hall, where you'll find categories like unisex, women's and kids, t-shirts and unisex sweatshirts. There's something for everyone!
Curious to know how Allmade fits you or your customers? Get all the measurements in this Allmade Size Chart. Or just start shopping for wholesale Allmade blanks and you'll find the Allmade Size Chart in every product's description.
Whether you're looking for sustainable t-shirts or need help finding the perfect blank to decorate for your next product launch, our customer support team is there for you! Call the Press Hall team directly at (855) 919-2467 or email us at help@presshall.com

Great Tees. Greater Impact.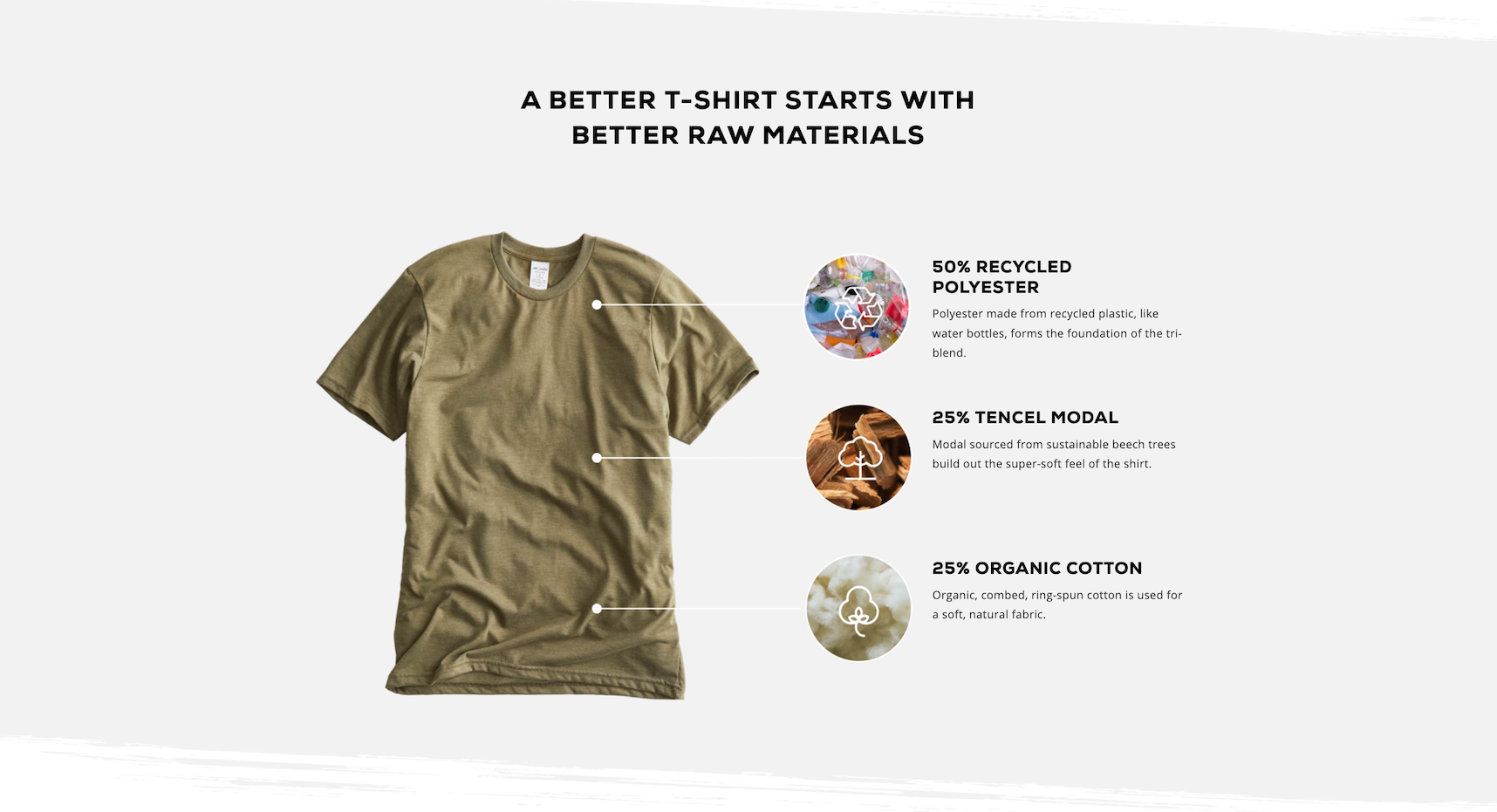 Allmade is a blank apparel brand built by a group of passionate sustainability superstars with two things in common: Their love for screen printing t-shirts and their forward-thinking views on how to save the planet.
These awesome trend-setters are the type of people who go on mission trips to Haiti and aren't afraid to get their hands dirty.
Allmade celebrates and encourages others to treat everyday like Earth Day. After all, there is something we can do everyday to lessen our impact on dear, ol' mother Earth. Little changes can add up to big changes.
Speaking of big changes, on World Water Day in 2022, Allmade announced that they saved over 1 billion gallons of water by creating shirts with less water compared to conventional shirts. This is just one example of the good they do!

Tri-Blend Sustainable T-Shirts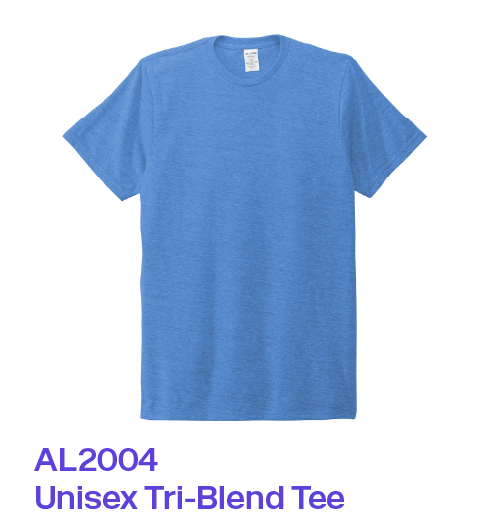 Now let's dig into the specifics. Starting with the Allmade AL2004, which is just one of their tri-blend sustainable t-shirts. At 4.2 ounces, the AL2004 is considered a lightweight t-shirt. It's manufactured with an equivalent of 6 recycled plastic water bottles that would have otherwise ended up in our oceans.
The Allmade AL2004 and the other Allmade tri-blend shirts are made from:
50% recycled polyester made from recycled water bottles (Aluminum Grey and Vino Red include 25% recycled polyester)
25% modal sourced from sustainable beech trees
25% ring-spun organic cotton
Remember how we mentioned Allmade's love for screen-printing? These tri-blend blanks were created by screen-printers for screen-printers! They are perfect for screen-printing and they look and feel incredible.

100% Organic Cotton Blanks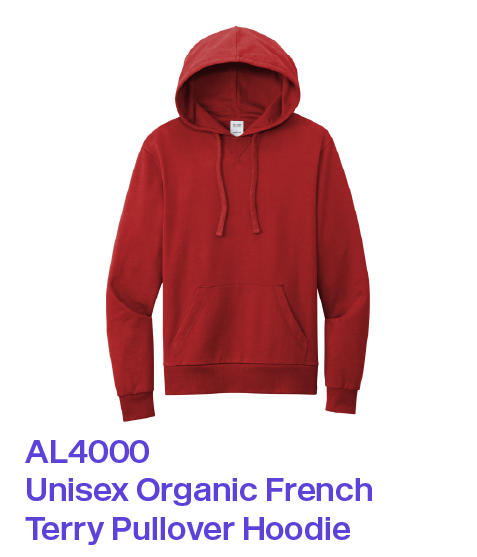 Allmade makes more than t-shirts. They have sweatshirts and hoodies like the AL4000 too. The AL4000 is a 100% organic cotton hoodie that is considered medium weight at 8.3 ounces.
Are you a fan of 100% organic cotton blanks? We sure are! Why? Well, Allmade's 100% organic cotton blanks save 64 gallons of water per blank! That's a whole lot of water saved when compared to non-organic options. And something you can feel good about decorating and reselling to your customers.
Learn more about how Allmade's organic cotton blanks are made on their blog. Then come back to Press Hall to order Allmade blanks at wholesale prices.

50/50 Blend T-Shirts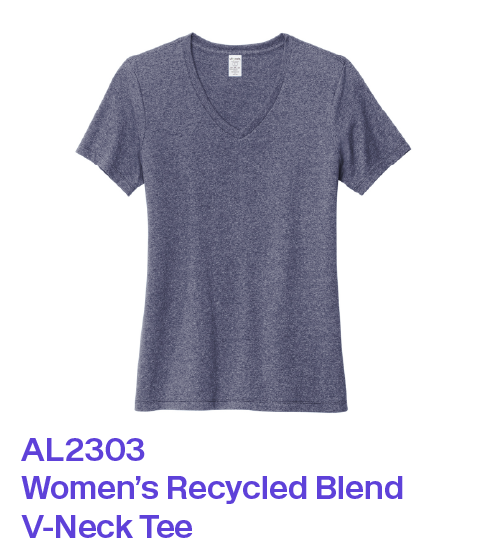 No one likes dye pollution. Unless you're Evil Dr. Doofenshmirtz. Allmade also makes 50/50 blends like the AL2303. Their 50/50 blends are made from 50% recycled cotton and 50% post-consumer recycled polyester. The best part? They don't get re-dyed! The color options come from the color of the original cotton scraps, which helps save energy and water. Yay!
If you want to build a custom apparel brand and feel good about the products you sell, it starts with blanks you can feel good about. And you feel good about decorating Allmade blanks. Allmade is very transparent about their sustainable manufacturing processes.
Shop the rest of Allmade's 50/50 blend shirts at Press Hall.

Allmade's Environmental Impact


Allmade's manufacturing facility in Honduras is powered by a very interesting and sustainable system called Elcatex. The Elcatex system utilizes an impressive solar panel array to power nearby facilities for blank apparel brands like Allmade, District, and Port & Company. No sun? Not a problem for Elcatex! On cloudy days, the Elcatex system reverts to using energy stored in nearby king grass crops.
Allmade sets a great example of corporate social responsibility by making t-shirts:
From plastic water bottles that would otherwise end up polluting Earth's oceans
With less water than conventional t-shirts so there's more water left for the planet
With a unique blend of fibers that help to reduce the carbon footprint of their shirts
Our team even visited the Elcatex in person to see how it works. It's super cool to see companies work together and prioritize the planet over profits. We love Allmade shirts, and so should you! Shop their products at Press Hall.